• Winery
A taste of Italy, California-style at Postino in beautiful Lafayette
Reading time in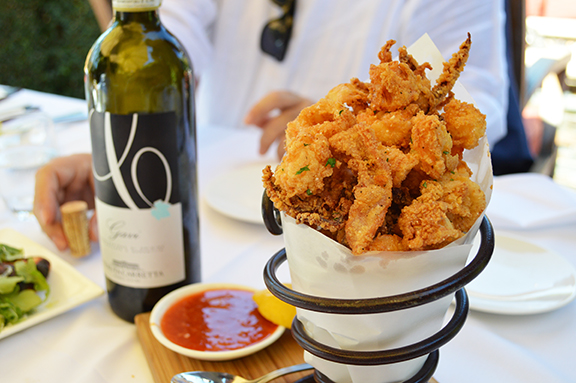 Above: Fresh (not frozen) calamari and baby octopus from Monterrey Bay in northern California. Paired with 2013 Tenuta Carretta Gavi by-the-glass. Man, it doesn't get any better than that!
After a gorgeous day in Beverly Hills, the Tenuta Carretta USATour2015 headed north to the Bay Area.
The first stop was Postino, an Italian restaurant considered by many northern Californian foodies to be one of the best in the area.
The opening salvo was a dish of perfectly fried Monterey Bay calamari and octopus (above) paired with Tenuta Carretta's 2013 Gavi by-the-glass. Man, what a great dish and what a fantastic pairing!
When you think of northern Californian fine dining, the first thing that comes to mind is the abundance of fresh produce that chefs have at their fingertips. There's probably no other place in the U.S. that can come as close to Italy in terms of ingredient-driven food.
But Californian chefs and restaurateurs also have access to some of the best seafood in the world — handsdown.
And yes, southern California has the big fish like tuna and swordfish. They don't get any fresher and more delicious.
But northern California also has Monterey Bay, with its calamari, octopus, clams, oysters, prawns, etc. This dish and the wine pairing were truly spectacular.
It made us feel like we were sitting in a seaside café on the Ligurian coast (where you'll often find Gavi served by-the-glass).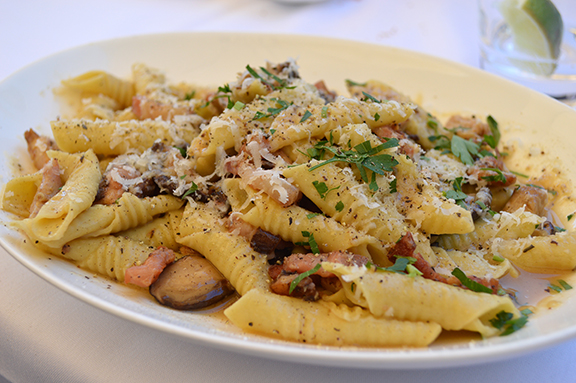 Above: Don't bother calling yourself an "Italian" restaurant unless you serve housemade pasta like these garganelli at Postino. Excellent!
Next came the housemade garganelli (above) with roast rabbit, house-cured pancetta, and Shiitake mushrooms.
This was another example imho of how Italian and Californian cuisine can align so seamlessly. I loved how the Shiitakes, a local favorite mushroom, worked so gorgeously with the chef's pancetta and the rabbit. And the pasta was served perfectly al dente.
All in all, it was a great meal.
But the thing that really took it over the top was wine director Brian Cooley's Italian and Californian wine list.
Yes, he has a great selection of cult Sonoma Coast Pinot Noir (really one of the best I've ever seen, to tell the truth) and he has an ample flight of Napa and Sonoma wines. In northern California, you expect to find a list like that at a mid- to high-end fine dining restaurant.
But it was his Italian list that really blew me away. Where most California wine directors focus on the usual suspects — Barolo, Barbaresco, Brunello, and Super Tuscans — he had wines from nearly every one of Italy's 20 regions. And you could tell that he nurtures a love for native Italian grape varieties and a passion for traditional style Italian winemaking.
It was a thrill to see such a rich collection of great (and affordable) Italian wines in northern California where Italian can often be an afterthought to the hometown favorites.
Bravo, Brian! It was great for this southern California native and now Houstonian to discover your restaurant and superb wine list!
Postino
3565 Mt Diablo Blvd
Lafayette, CA 94549
(925) 299-8700