• Winery
Only in California: Supermarket with a FANTASTIC selection of fine wine from Europe
Reading time in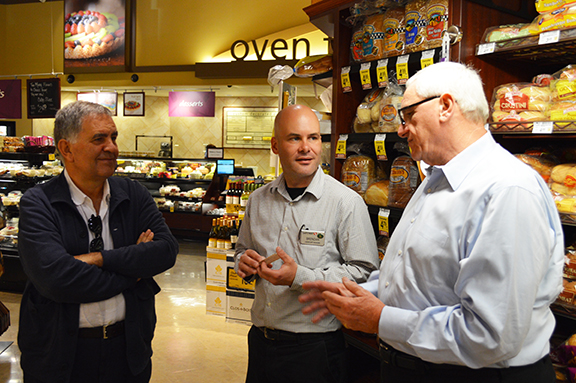 Above, from left: Tenuta Carretta CEO Giovanni Minetti, Safeway wine steward Brendan Byrne, and Don Kowalski of Specialty Cellars.
Chalk it up to the department of "only in California": An old-school super market with a fantastic fine wine department.
In many ways, California as a whole is unique in the panorama of food and wine culture in the U.S. today.
But in northern California, where Tenuta Carretta toured the "on premise" and retail landscape a few weeks ago, fine wine culture is perhaps more prevalent and relevant than anywhere in the country.
Most would ascribe this phenomenon to the fact that Northern California is the North American wine world's epicenter and it's one of the few places in the country where you have a lot of people who make wine and a lot of people who drink wine living in the same place. The only difference between Northern California and a place like the Finger Lakes is that a whole heck of a lot more people live in Northern California than in upstate New York!
The Tenuta Carretta crew was surprised but curious when its No. Cal. handler Don Kowalkski rolled the group up to an old-school Safeway supermarket in central Lafayette.
But as soon as it crossed the threshold of the entrance, the Carretta team understood why Don insisted they visit this unique retail outfit together.
Brendan Byrne (above, center) has worked at this Safeway location for his entire adult life. And a few years ago, he was promoted to "wine steward," a modest title for an extraordinary wine buyer and European wine expert like him.
About 80 per cent of his selection is mandated by his corporate office. But with the other 20 per cent up to him, Brendan offers his guests an incredible breadth of European wines — French, Spanish, and Italian.
Not an easy sell, he said, especially in a place where California wine is king.
But his wide-ranging knowledge of wine and his easy-going demeanor make him the ideal salesperson for the fine wines of Europe. His wine department, he told us, is the most successful in the whole chain. And it comes as no surprise!
Just look at that photo above: Brendan is facing his wall of high-end European wines, including great Barolo and Barbaresco, and to his back is the bread section! Only in California…
Safeway
3540 Mt. Diablo Blvd.
Lafayette CA 94549
(925) 283-0228
Ask for Brendan and tell him we sent you!