• Winery
Shelley Lindgren's A16: An American icon of Italian gastronomy
Reading time in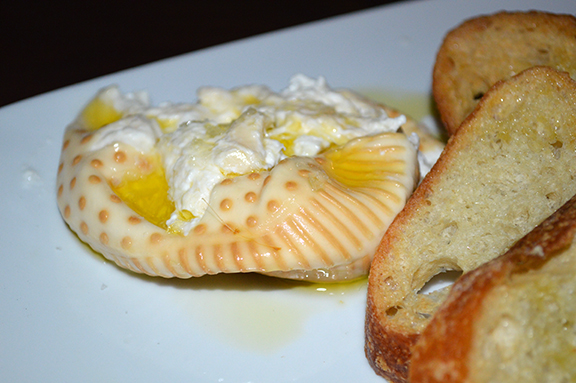 Above: We had our first-ever taste of "smoked burrata" at A16 in San Francisco. Shelley Lindgren opened the restaurant in 2004. Eleven years later, it's still one of the hottest spots in the U.S. for cutting-edge Italian cuisine.
"There are few people, if any," write the editors of PUNCH, "more synonymous with San Francisco's wine scene than Shelley Lindgren. The co-owner and wine director of two of the city's most iconic Italian restaurants — A16 and SPQR — Lindgren has long been one of the country's most respected voices on Italian wine."
When we first started talking about doing a Tenuta Carretta swing through northern and southern California, the number-one restaurant we wanted to visit was Shelley's A16.
For more than eleven years now, the restaurant and her innovative wine list have been icons of fine Italian dining in the U.S.
Shelley first awed the Italian wine world when she became the first wine director to launch an all-southern-Italian list when she first opened the doors of A16.
At the time, no one thought it could be done (and on a personal note, I even remember Joe Bastianich talking about how improbable it seemed).
But it was an instant success. And not only was it a success for Shelley and her partners, who later grew the concept into a restaurant empire.
It was a success story for Italian wine. Shelley showed the world that southern Italian wine could deliver a world-class list with great depth and versatility (like the lovely Vermentino by Capichera that she poured for us the night we visited).
We were lucky to snag a table at 7:30 on a Friday night while we were in California. And the place was bustling JUMPING! Packed to the gills.
But that's not surprising: Ever since it opened, A16 has never waned in its popularity among the food and wine cognoscenti.
Shelley treated us to a smoked burrata, something that we had never seen before — not even in Italy!
Again, not surprising: Shelley and her team at A16 have always been on the cutting edge of the Italian enogastronomic world. It's also no surprise that they were churning out authentic Neapolitan pizza long before the "pizza wars" began in the U.S.
For those of us old enough to remember the years before the Italian wine and food renaissance in America, when, yes, there were some great Italian places to eat in North Beach, but they were mostly simple, red-checkered-table-cloth affairs with Chianti flask candleholders and a "house red" and a "house white," Shelly and her A16 represented a watershed moment in the new and brave world of Italian enogastronomy.
Chapeau bas, Shelley! We were fans then and we remain your loyal and true fans today. Thank you for all you do for Italian wine.