• Winery
Al Fico, a new osteria-inspired menu and all-Italian wine list in Austin, Texas
Reading time in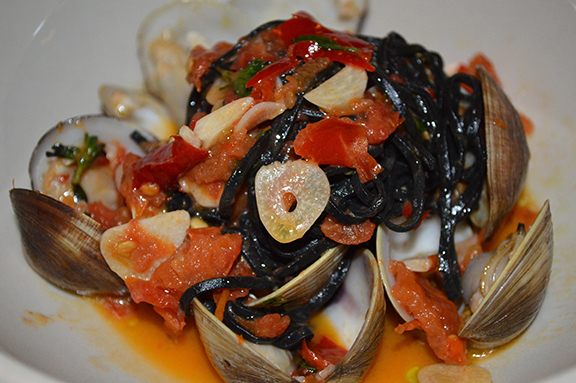 Above: The Spaghetti al Nero di Seppia at the newly opened Osteria Al Fico in Austin, Texas.
As the Tenuta Carretta Tour USA 2015 continued, we left California and headed out for Texas where we visited Houston, Austin, and Dallas.
We have lots to tell about all three cities. But we just have to start with Austin because our good friend there, Jeff Courington, has just opened his much anticipated new Italian concept Al Fico which features an "osteria-inspired menu" and an all-Italian wine list.
As we've written repeatedly here on the blog, one of the things that impressed us the most about our visit to America was the high level and caliber of Italian cooking we tasted there.
But nowhere were we more impressed than Texas, where there is a true Italian food and wine renaissance happening (we'll post more on what we saw, ate, and drank in Houston later; and for the record, I'm the only one who's eaten at Al Fico because Carretta CEO Giovanni Minetti and his son Francesco left the state before it opened).
Yes, it's true, Shelley Lindgren and her team at A16 in San Francisco have been serving some of the best Italian-inspired food in the U.S. since 2004.
But only recently has the Italian gastronomic movement taken foot in Texas where — in Austin alone — myriad Italian restaurant have opened over the last five years (more on other Texan Italians we visited later).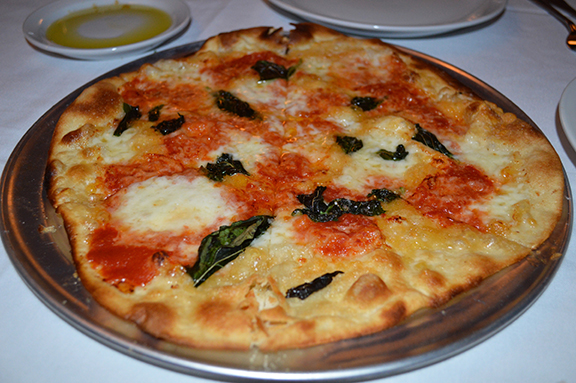 Above: Chef Clinton's wood-fired pizzas are inspired by the pizzaioli of Rome (as opposed to Naples) and have a thin, crunchy crust (as opposed to burned rounds and soggy center). That's the margherita.
Jeff couldn't have been more of a gracious and generous host than on our free day in Austin, when he took us to eat classic Texas barbecue in the Texas Hill Country and to meet and taste with a Texas grape grower and winemaker.
During our time together, he talked to us about his ambitious plans for Al Fico, where, he said, he wanted to give Austin its first authentic taste of the osteria experience.
There are a lot of great Italian restaurants in Austin, of course. After all, it's one of the most important markets in America today thanks to the immense popularity of its music festivals, its film and media festivals, and most recently Formula 1 racing.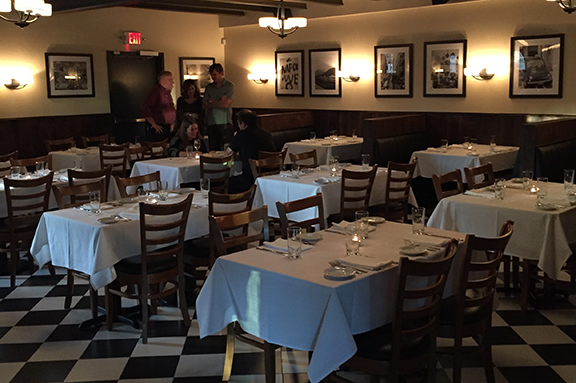 Above: The dining room at Al Fico is inspired by owner Jeff's many wine buying trips to Italy.
But most of the newer venues focus on contemporary interpretations of Italian gastronomy or Neapolitan-style pizza (the latter, in particular, has been trending in the U.S. for some time now).
Jeff explained to us that he wanted to recreate the type of restaurant experience that he has come to know over the years during his frequent wine buying trips to Italy (he also buys wine for his wine bar concept, Vino Vino).
From its checkered floors and wood fixtures to the black and white stills that adorn the walls (printed from analog film by a locally based photographer and artist whom Jeff took to Italy expressly to create the series of images for the restaurant), you feel like you've just deplaned from a trans-Atlantic flight when you walk into his restaurant.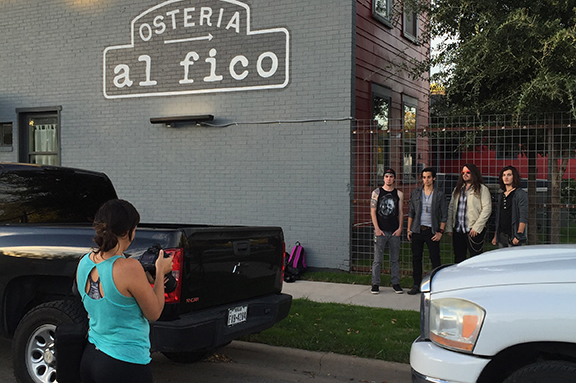 Above: It was only natural that a rock band would be posing for an album cover in front of the restaurant when I visited yesterday. Austin is the "live music capital of the world" and it's currently the hottest city in the U.S. for independent and Americana music.
But the most exciting thing about Al Fico is that its opening continues to expand American restaurant-goers' knowledge of Italian wines.
Some may have thought that the Italian wine revolution in the U.S. was just a trend when Babbo debuted its watershed list back in 1998. But today, nearly twenty years later, the Italian wine movement continues to grow and grow.
Giovanni and Francesco were blown away by the level of interest in Italian wines and I know they are going to love the list at Al Fico when they return to visit one of their favorite cities in Texas and one of their best friends, Jeff Courington.
Congratulations, Jeff! And thank you for all you do for Italian wine!