• Winery
Nebbiolo: It's what's for Thanksgiving dinner
Reading time in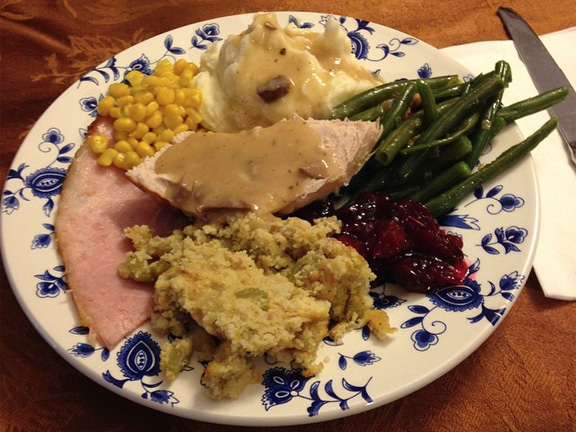 Above: A classic American Thanksgiving plate, loaded with roast turkey, glazed spiral ham, mashed potatoes and gravy, corn bread stuffing, steamed corn, sautéed green beans, and cranberry sauce (in the southeastern United States, corn bread is generally used to stuff the bird; in other areas, white bread is the filling of choice).
Every year, Americans fret over the perfect wine to pair with their Thanksgiving feast.
The process of choosing just the right wine to pair with the turkey can be so fretful, that this year, Eric Asimov, the chief wine critic for the New York Times (and one of our favorite wine writers) entitled his annual column and tasting panel results thusly: "Fret-Free Wine Options for Thanksgiving."
His is just one of literally hundreds of columns and blog posts by top wine writers and "citizen wine bloggers" that will populate the internets in the weeks that precede the all-American holiday.
One thing that a lot of wine writers and lovers seem to agree on is the fact that the Thanksgiving meal wasn't exactly conceived with fine wine pairing in mind. In fact, it's one of the most un-wine-friendly meals of the calendar year.
Where there is focus around a specific "main course" dish for holidays like Easter/Passover (lamb shank) or Christmas Eve (fish), Thanksgiving is a hodgepodge of myriad flavors, ranging from the intensely savory (like mashed potatoes with gravy) to radically tart (cranberry sauce) to generously sweet (sweet potato pie topped with marshmallows).
"Don't worry about pairing specific dishes with particular wines," writes Eric (and we agree wholeheartedly!). "The range of flavors is too wide and unpredictable to concern yourself with that."
When it comes to pairing Piedmont wines with the Thanksgiving meal, and wines from the Langhe and Roero Hills specifically, the grape probably best-suited for Thanksgiving is Barbera: It's got the zinging acidity and bright fruit (when vinified in a traditional manner) that can stand up to nearly every flavor on the Thanksgiving plate.
And it's generally a low-alcohol wine (when vinified in a traditional style), a top criterion for Eric in his selection.
But that fact shouldn't exclude or omit Nebbiolo from the mix when the fourth Thursday in November rolls around.
In America, we have a tendency to reserve our pairings for the so-called realm of perfection. Yes, Barolo paired with scrambled eggs topped with shaved white truffles is one of the most sublime food and wine marriages in the world. But that doesn't mean that it won't also taste good with pizza, even though pizza is not a wine-friendly dish.
In Piedmont, they (we) drink Nebbiolo with a much wider variety of dishes that most would suspect in the U.S.
And one of the things that makes Nebbiolo go so well with so many foods (even if not optimal in their combination) is the grape variety's natural acidity and lithe mouthfeel, even when young.
So beyond our self-interest in hoping you'll pair a Langhe or Roero Nebbiolo or Barolo or Barbaresco with your Thanksgiving get-together, we encourage you to try it: You might be surprised by how well it will work.
And after all, in Piedmont, it wouldn't be a true celebration without Nebbiolo. So why not in America, too?
P.S. Tenuta Carretta also makes a fantastic traditional-style Barbera d'Alba!