• Winery
Vitello tonnato recipe (Piedmontese style)
Reading time in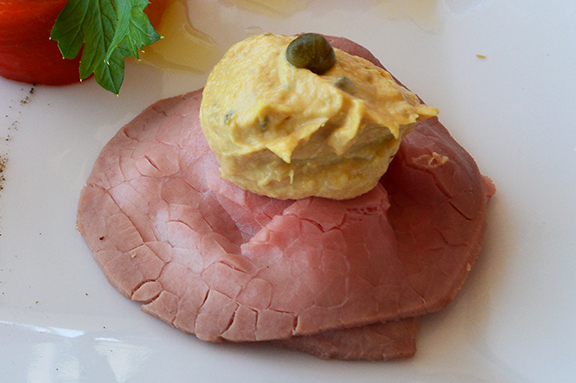 We're coming to the end of our series of posts on one of our favorite dishes, vitello tonnato (click here for the complete thread to date).
We've posted a translation of what is probably the earliest known recipe by Pellegrino Artusi.
We've posted the Lombard version (thanks to friend Francesco Bonfio).
We'll surely return to the topic in future. How can we not?
But in the meantime, we wanted to post a classic and contemporary recipe for the dish that you can make at home.
Here goes…
Vitello Tonnato (Piedmontese Style)
Serves 4-6 persons
1 veal thick flank
extra-virgin olive oil
1 cup dry white wine
Kosher salt
freshly crushed black pepper
1 bay leaf
1 garlic clove, unpeeled
¼ onion, finely chopped
1 small carrot, peeled and finely chopped
1 celery stalk, peeled and finely chopped
2 egg yolks
wine vinegar
2 salt-cured anchovies, deboned and washed
cured capers
1 can olive oil-cured tuna
In an oven-ready pot, heat three tablespoons of extra-virgin olive oil over medium heat.
Brown the veal thick flank in the oil and then deglaze with the white wine.
When the alcohol has evaporated, season with salt and pepper to taste and add the bay leaf, garlic clove, and the onion, carrot, and celery.
Cover a transfer to a pre-heated oven at 300°. Cook for 1 hour.
Remove the veal from the pot and strain and reserve its cooking juices.
Make the sauce by whisking the egg yolks together with 3 drops of vinegar, olive oil as needed (start with 1 tablespoon and continue to add until you obtain the desired consistency), the anchovies, a handful of capers, and salt and pepper to taste. Then fold in ⅔ of the can of tuna, mixing all the while until you obtain an even, creamy consistency. Finish the sauce by mixing in the reserved juices from the veal.
Once the veal has cooled, thinly slice, dress with the sauce and serve with a sprinkling of capers.