• Winery
Michelin-Starred Chef Flavio Costa Launches "21.9," a new restaurant at Tenuta Carretta.
Reading time in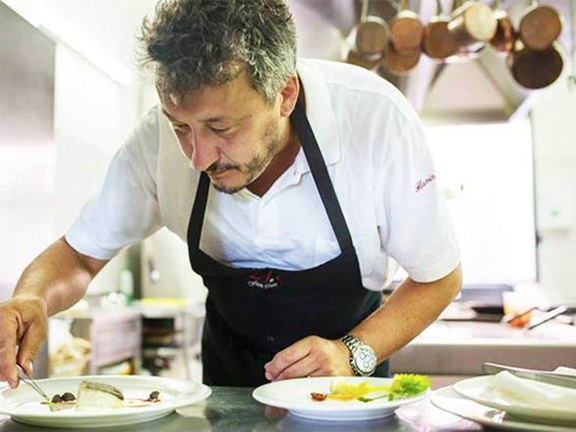 Michelin-Starred Chef Flavio Costa Launches "21.9," a new restaurant on the grounds of Tenuta Carretta.
By Adriano Salvi.
A marvelous location that retains its elegance and rarefied charm: Looking out over the wild hills of Roero and guarded by two stone lions that stand over its entrance, the Tenuta Carretta in Piobesi d'Alba is without a doubt one of the most impressive wineries on the left bank of the Tanaro river. The farm became a working estate in 1467 (the cellar sits in the center of an amphitheater-shaped vineyard that covers 35 contiguous hectares where the winery sources its top wines). But the massive and spacious historic farmhouse was architecturally ideal for creating a boutique hotel with ten rooms and a restaurant on the grounds.
In February 2016, Ivana Brignolo Miroglio, president of Terre Miroglio (the group that oversees the family's three wineries) invited Ligurian chef Flavio Costa to take over as manager of the hotel and restaurant. He brings with him a Michelin star that he won at his restaurant in Albissola Marina.
In the words of Tenuta Carretta's CEO, Giovanni Minetti:
"Our partnership with Flavio Costa is an important step in the ongoing process of developing the property. Visiting Tenuta Carretta means experiencing a world of quality, including vineyard tours, visits to our impressive state-of-the-art winery, tastings in our newly opened wine shop where guests can purchase the wines, and world-class hospitality in our restaurant and boutique hotel. The fact that a Michelin-starred chef accepted the position is obviously a source of great pride for us, in part because our shared goal is that of offering wine lovers new opportunities to explore their passion. Partnering with a Ligurian chef, whose culinary identity is rooted in seafood, allows us to showcase our wines from Roero, an appellation particularly suited for the production of whites."
The menu of 21.9 will be a rich blend of land- and seafood, with an innovative slant that will include some of Flavio Costa's signature dishes.
"I'm currently exploring the area and looking out for the best purveyors," says chef Flavio. "And I have my many longtime colleagues from Langa and Roero to help me in my research."
"Classic Piedmontese dishes will be part of my landfood menu, it goes without saying. And I will also offer a seafood menu with the freshest of ingredients; a traditional menu; and a quasi-experimental gastronomic menu with surprise dishes. I'll also be including some of my guests favorite dishes, like tromboncino squash crème, cuttlefish in their ink, and candied lemon zest."
21.9 will be open for lunch and dinner, except for Tuesdays when the restaurant will be closed for both lunch and dinner and Wednesdays when it will only be open for dinner.
Click here for the "21.9" Facebook.
Translation from the Italian by our blogmaster.