• Winery
Leading food and wine writer Marco Trabucco reviews Ristorante 21.9 for La Repubblica
Reading time in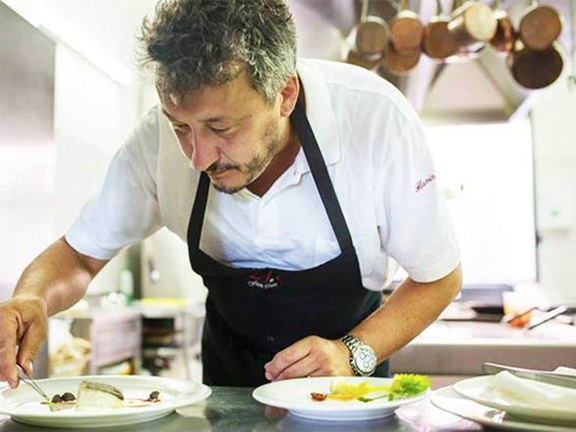 From La Repubblica, May 7, 2016 (translation by Tenuta Carretta)…
It's not easy to find a great seafood restaurant in Piedmont. There are a few here and there and you're more likely to find them in Turin than outside the city: Trattorias with decent fresh fish where they serve country-style dishes.
And obviously, you are always going to be able to find seafood dishes in top dining destinations (like Antonino Cannvacciuolo's restaurant at the Villa Crespi and at the Rei del Bsocareto Resort, where, not by chance, there are two southern chefs manning the line).
But ever since the Mongelli closed their restaurant in Santa Vittoria d'Alba, Piedmont has been without a great seafood chef.
And so, to fill this gap, we've imported one from neighboring Liguria. And we weren't satisfied with bringing just any chef but the best one we could find in the region: Flavio Costa.
He has quite a resume, including two of his own restaurants, Arco Antico in Savona and 21.9 in Albisola. The name 21.9 accompanied him up here in Roero to the Miroglio Family's Tenuta Carretta in Piobesi d'Alba, where he's been working since February.
The estate literally stretches over the Alba hills, surrounded by vineyards. And beyond the restaurant, it's also home to the Tenuta Carretta winery and 10 elegant bedrooms and two suites.
The restaurant is divided into two parts. A "traditional" section, with two dining rooms and the mandatory bar area for restaurants with such lofty ambitions. And the new banqueting and events wing, which is no less elegant and includes a beautiful garden. Both are managed by Costa but have separate kitchens.
A real gourmet's restaurant should show you, right off the bat, that the chef's hand is deft. Costa gets his fish from his favorite Ligurian fish mongers but he pairs them with classic Piedmont cuisine, using products that he has sourced from local farmers (there is also a classic Piedmontese menu).
And he offers some interesting combinations from the two regions like violet shrimp from Sanremo with peas and "tonga gentile" hazelnut; and mullet with potato gnocchi with garlic, olive oil, and chili flake emulsion.
Dishes not to miss: Cappelletti with sweetbreads, nettles, white butter and capers; the classic catch of the day in a Champagne sauce; and among the desserts, the chocolate, carrots, and candied Chinotto oranges from Savona.