• Winery
Truffle fair and market in Alba (Piedmont) through November 27
Reading time in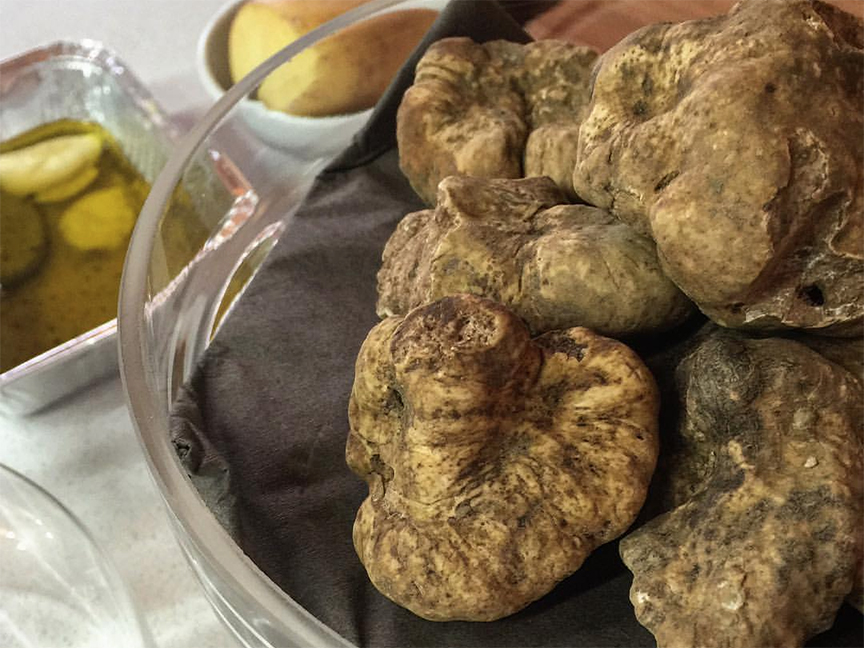 The Americans like to call them "white gold": Piedmont's coveted white truffles, one of the world's greatest (and most expensive) delicacies and one of life's greatest pleasures.
Especially for our English-speaking friends in the United States, the thought of enjoying Alba white truffles can often seem daunting: Is the cost prohibitive? Will I be tasting real Alba truffles (or a cheaper substitute)? How do you prepare and serve truffles? And — perhaps most importantly — where do I get truffles?
There's no better way to discover (and wrap your mind and palate around) Alba's holy grail of gastronomy than by visiting the Langhe Hills of Piedmont during the truffle hunting season (early to mid-October through late November).
From Piedmont to New York to Los Angeles and Tokyo beyond, connoisseurs and Piedmont locals agree that truffles paired with Nebbiolo (Barolo in particular) is one of the world's most sublime culinary experiences. But nothing can come close to experiencing that pairing in situ in the Langhe proper: As the old saying goes, if it grows with it, it goes with it.
Especially for those of you who are tasting Alba white truffles for the first time ever, perhaps the best way to "get your truffle on" is to attend the annual Alba Truffle Fair and Market. Not only does this show give you the chance to taste truffles in traditional preparations and dishes, but it also allows you to meet and mingle with other truffle enthusiasts and Italian gastronomes.
But the fair and market also represent a truly unique experience inasmuch as they give attendees a sense of how the Piedmontese embrace their generational tradition of truffle hunting and truffle appreciation.
By the time truffles reach New York or Tokyo, there have been many middle-people in between. And many American guests are often pleasantly surprised by just how affordable the tubers can be (especially when consumed in Langhe).
Here's a link to the fair and market, which run through November 27.
Advanced ticket purchase is highly recommended to avoid lines and ensure availability.
Unfortunately, the ticket links on the English version of the site don't seem to work. But you will find functional links on the events pages of the Italian version.