• Uncategorized
Wishing you a wonderful holiday season and a happy new year!
Reading time in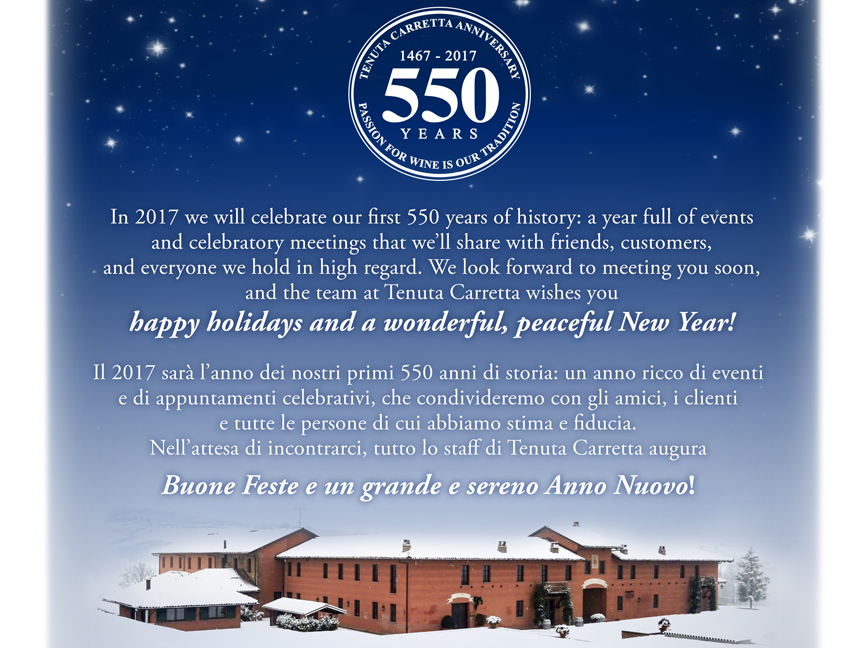 Christmas is just a few days away and here in Roero, we just had our first snowfall of the season. Our hills have a snow white blanket just in time for the holiday. As the year comes to an end, each of us is looking back over the last 12 months and making a symbolic inventory of the experiences we've lived.
For the team here at Tenuta Carretta, 2016 was a truly productive year. We are excited about the work we have done this year and especially about the results we have achieved. Our commitment to our work is the fruit of our passion and devotion. And we couldn't be more proud to work for a company whose sole objective is that of producing high-quality wines.
We are a group of people who share mutual respect and support for our co-workers on a daily basis, just like a family. And we are all looking forward to our future together, growing together as we make Tenuta Carretta grow.
We would like to thank everyone who followed and supported us in 2016. Your support means the world to us. And we wish you a happy holiday season and a great new year.