Stuffed peppers, Piedmont-style: The secret ingredient…
Reading time in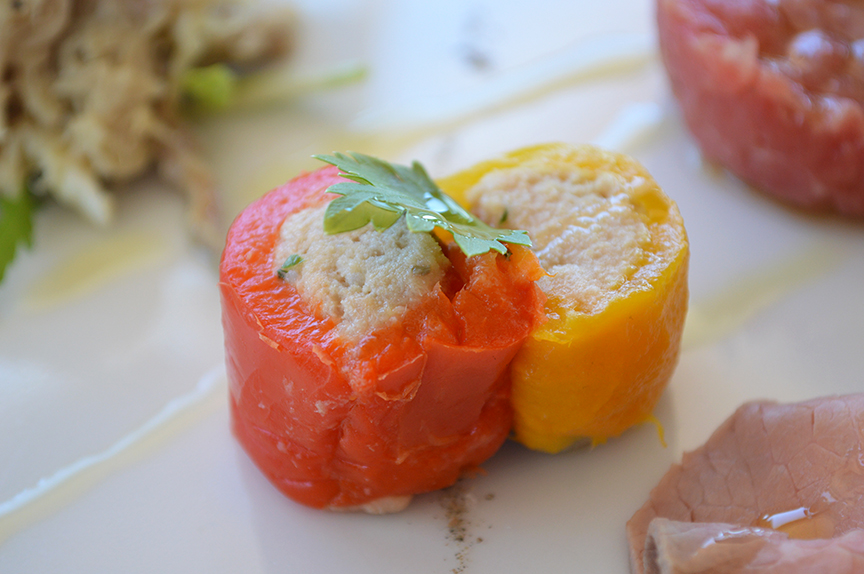 After spending the better part of the morning researching recipes for Piedmont-style stuffed peppers like the ones in the photo above, I've come to realize that the recipe is relatively simple but that there is one special ingredient that many English-language recipes omit.
The basic formula is as follows. And I'm basing my take on it on this recipe in Italian that I found online. The recipe is an adaptation of a recipe published by Alessandro Molinari Pradelli in his La cucina piemontese (The Cuisine of Piedmont), a collection of roughly 800 "traditional Piedmontese recipes." After looking at countless recipes, this was the best one I could find imho (at least online).
After you roast and peel the peppers, you make the stuffing using the following ingredients:
olive oil-cured tuna
salted anchovies
Grana Padano, grated
tomato purée or paste
eggs
bread crumbs
flatleaf parsley
sage
thyme
salt (I recommend using kosher salt)
But there is one recipe that the English-language recipes seem to all omit: Seirass, the Piedmontese dialectal name for cow's milk ricotta (or whey cheese).
Some of the English-language recipes use milk as a substitute but it's really the ricotta that gives the filling such rich flavor and that unmistakable consistency and texture.
Once the peppers have been cleaned, roasted, and peeled, you stuff them with the filling and then you fire them in an oven. Some people top them with bread crumbs before firing them.
The photo above comes from the Locanda in Cannubi, the Tenuta Carretta inn and restaurant that sit atop Cannubi hill, one of the most famous crus of Barolo where Tenuta Carretta grows one of its top wines.
Utterly delicious and a fantastic pairing for Roero Arneis Cayega!