Tajarin, Piedmont's classic pasta, smoother than a baby's bottom
Reading time in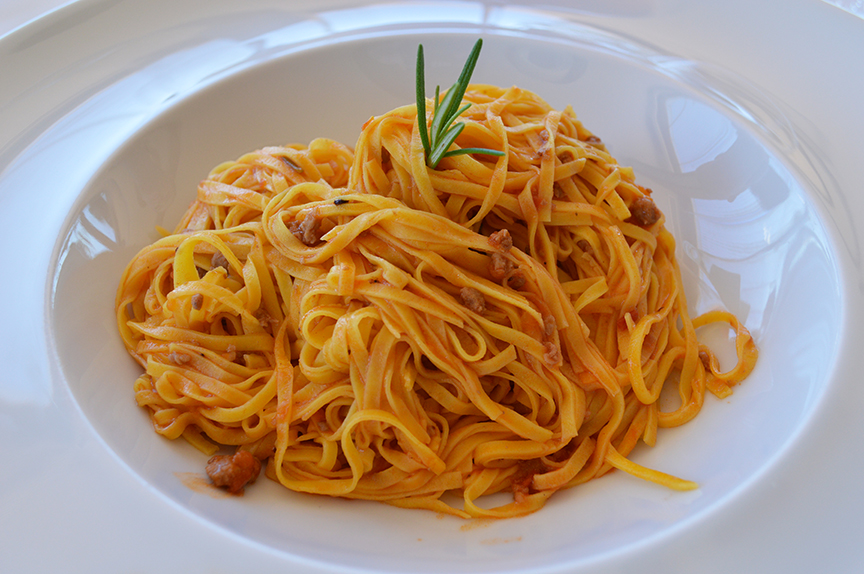 There is arguably no dish more quintessential to Piedmontese cuisine than tajarin, the Piedmontese dialectal name for taglierini or tagliolini, thin long noodles, akin to but more narrow than their cousins in Emilia-Romagna, tagliatelle.
A strictly egg-based pasta, they are typically served with a ragù made from frattaglie, in other words, innards (also known as entrails and organ meat) from beef, mutton, or pork, not to be confused with rigaglie, innards from poultry (in English, the words innards and entrails are interchangeable regardless of the livestock they come from whereas in Italian, there are two distinct terms to define either category).
Most food scholars concur that the pasta shape actually originated in Piedmont and more specifically in the Langhe Hills, where Barolo and Barbaresco are raised.
Even though tajarin are considered to be a homey, comfort food dish, it's believed that tajarin were a favorite dish of King Victor Emmanuel II, the first king of united Italy in the modern era and the first king of Italy since the sixth century.
It's said that his lover and later morganatic wife Rosa Vercellana used to prepare them for him by hand herself.
According to an often repeated legend, propagated in part by one of Italy's greatest twentieth-century gourmets and wine writers, Paolo Monelli, the best tajarin are produced when women use their bottoms, as opposed to rolling pins, to roll the pasta sheets out before slicing them.
This would seem to align with the age-old adage that the best way to gauge the readiness of a pasta sheet is to determine whether or not it is as soft as a baby's bottom.
The tajarin above were those served me by the excellent tavern keeper at the Locanda in Cannubi, Tenuta Carretta's lovely restaurant and bed and breakfast that stand atop Cannubi hill, one of the great crus of Barolo, where the winery owns some of its best rows of vines.
Last week, we took a look at the restaurant's stuffed peppers.