• Winery
Two months of Cooking Shows at Milano's Malpensa Airport, with dishes by Ristorante 21.9 and wines from Tenuta Carretta
Reading time in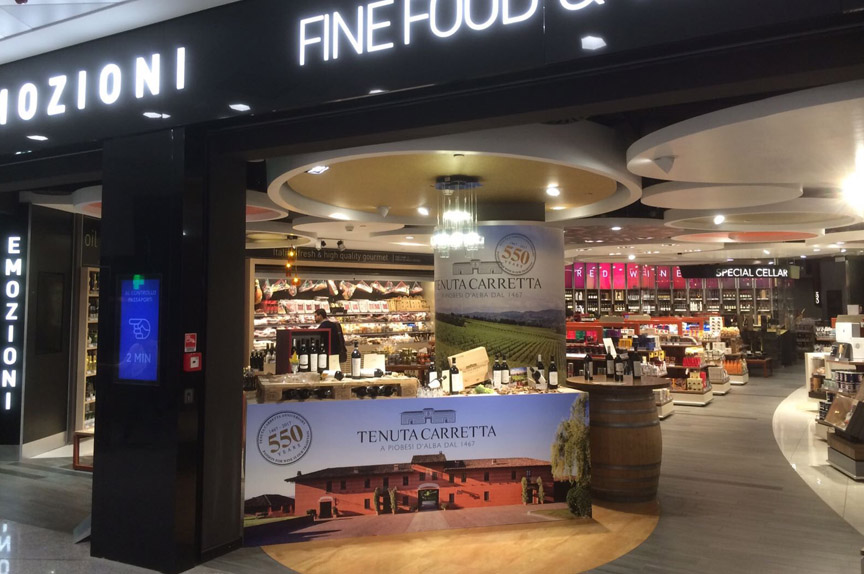 We are thrilled to announce that we've launched a new series of events as part of our celebration of 550 years of Tenuta Carretta: An ongoing cooking show in the most unlikely of places and the first gatherings of many in coming months that will feature the estate.
We have a number of different activities lined up to re-enact the history of Tenuta Carretta, which stretches back for hundreds of years. And even more importantly, we will also show what makes the winery what it is today: A world of excellence and quality, well positioned within the national and international wine and wine tourism communities.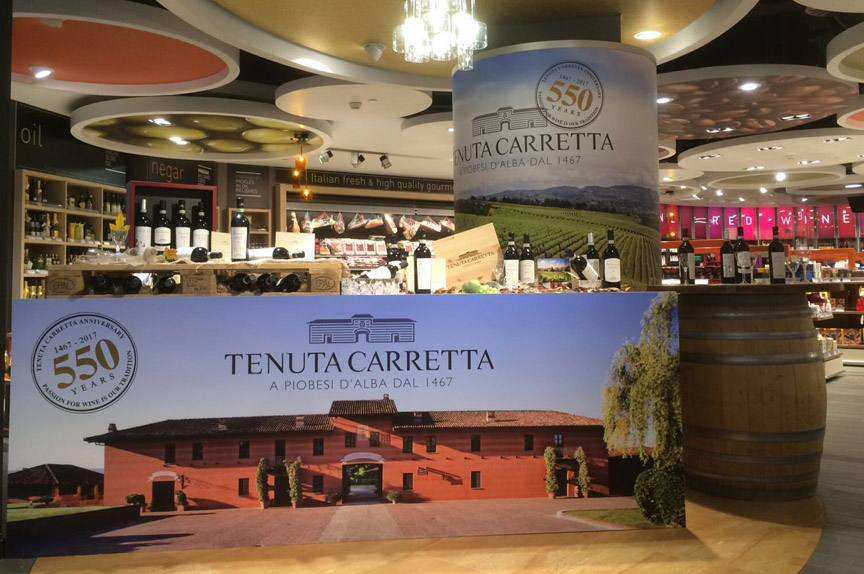 During April and May, you'll find us at our stand in the "Emozioni dell'aeroporto di Malpensa" section of the airport. It's just one of the elegant duty free shops situated in the international departures area. Starting on April 1 and for the next 8 long weekends, from Friday to Monday, travelers who pass through Milan's top airport will have the opportunity to taste our acclaimed wines from Langhe and Roero paired with small bites prepared by Michelin-starred chef Flavio Costa, owner of the 21.9 Restaurant and Boutique Hotel at the Tenuta Carretta winery.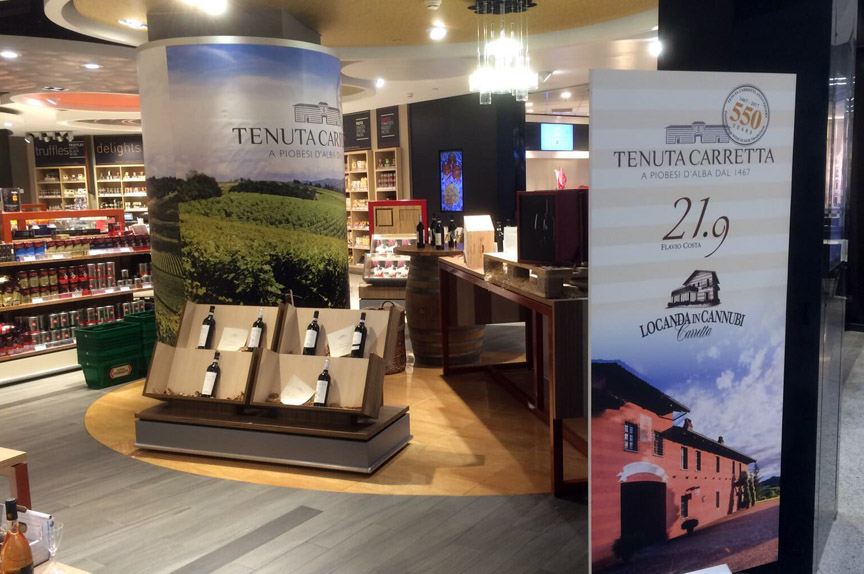 Our cooking show corner is decorated with images inspired by the unrivaled magic of our estate and its 35 hectares of vines. There is a large counter where guests can sample small plates and finger foods. And the same counter also serves as the backdrop by for the 8 Tenuta Carretta wines that are available to taste. There's also a wooden rack, a banner, and a large cask that visitors are also sure to enjoy.
The wines, which will be served and presented by a sommelier hostess, are as follows: Our celebrated flagship wine, Roero Arneis Cayega; Barbera d'Alba Superiore Bric Quercia; Langhe Nebbiolo Podio; our two vineyard-designated Barbarescos, Garassino and Bordino; our two vineyard-designated Barolos, Cascina Ferrero and Cannubi; and the top wine from our Malgrà winery in Mombaruzzo (Asti), the Nizza Mora di Sassi.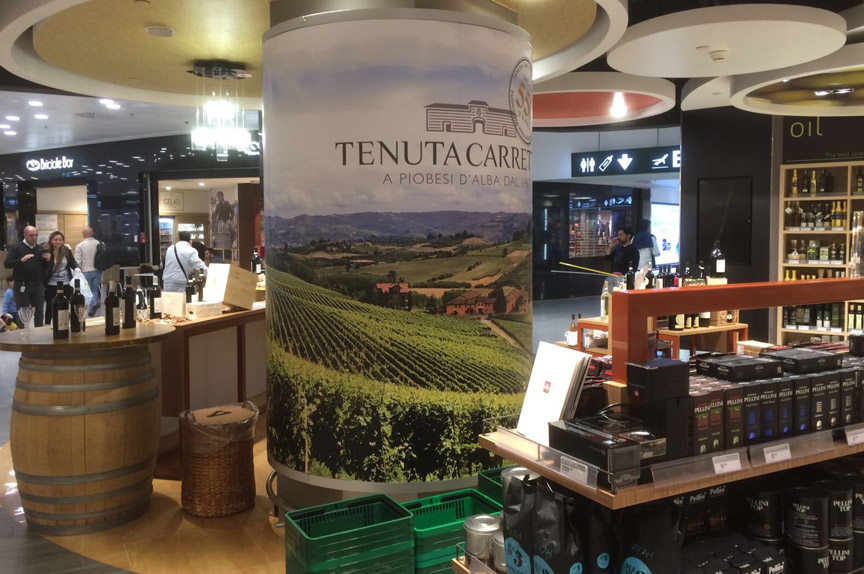 As far as the food is concerned, Chef Flavio Costa will be making some of his most famous dishes, like the Tromboncino Squash Bisque with Cuttlefish and Candied Lemon Zest (which will be featured next weekend). In coming weeks in April, he will also be making the following dishes:
Week 2: Vitello Tonnato Cube
Week 3: Creamed Baccalà Torte
Week 4: Farmhouse Terrine with Green Tomato Compost
Don't miss this unique opportunity to taste our wines paired with Chef Costa's cooking: If you happen to be traveling through Malpensa on a weekend during April or May, please come by and see us!