• Hospitality, Wines
Best hot dog pairing? The answer could be Roero Arneis…
Reading time in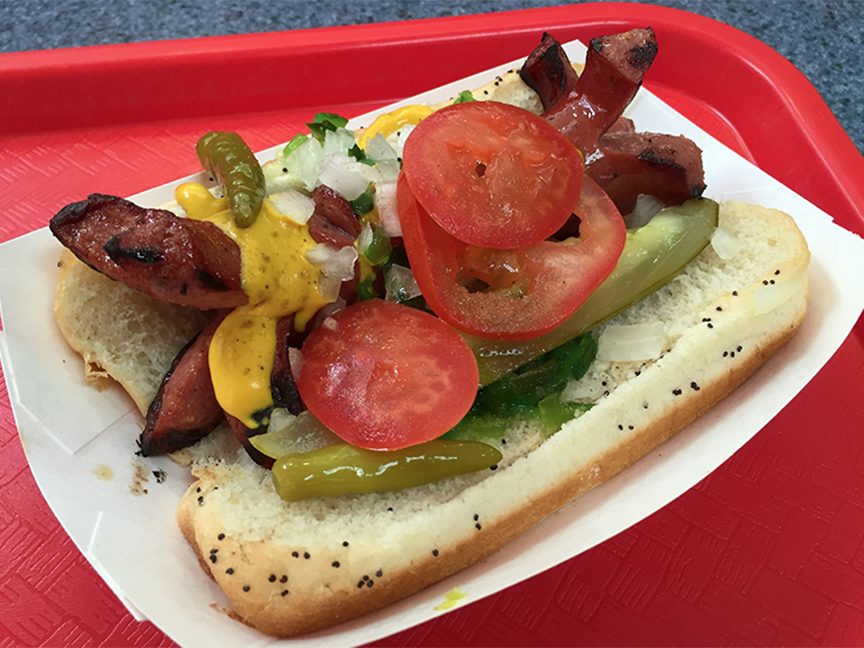 Above: A classic Chicago-style "char-dog" with "cheese sauce." The sauce is optional but the rest of the toppings are canonical.
For as long as anyone can remember, our friends in America have been obsessed with hot dogs. Not one, not two, not three, but four generations in the U.S. have grown up eating hot dogs for summer holidays. Some would say that the tradition reach back even farther, in fact.
"Billions of hot dogs will be eaten at cookouts this summer," write the editors of the New York Times food section this week. "and serving them is one of the easiest ways we know to make people happy."
American are so smitten with hot dogs that the Times devoted an entire column to a hot dog taste test. The New York Times, people!
But the editors also note that hot dog culture has changed drastically and radically in recent years:
"Back when hot dogs were on every list of foods to avoid — alarming additives, questionable cuts, salt and fat galore — home cooks didn't want to know too much about what was in them. But cooks are different now, and so are hot dogs. We want to know that what we're eating is as good as it can be. Hot dogs are made from better ingredients, with fewer additives."
There was a time when hot dogs were one of the most unhealthy things that Americans ate on a daily basis (think Upton Sinclair's The Jungle). But today our counterparts in the U.S. have a wide array of wholesomely ranched hot dogs and wholesomely farmed buns available to them. Hot dogs are no longer at the bottom of the food heap. In fact, they are enjoying a renaissance of sorts (again, see the Times piece).
This all raises the question of what to pair with hot dogs at that classic and favorite all-American gathering otherwise known as the Fourth of July picnic.
Beer — or should we say, craft beer — is the predictable choice. And fair enough. Like hot dogs, beer in American has evolved greatly in the last 20 years.
But more and more, Americans are going to be serving wine at their Fourth celebrations. And as much as we know that a fresh Barbera will go great with a summer grill, we are convinced that Roero Arneis is the ideal pairing: Between the mustard and the other heat that may be used to dress the dog, not to mention the sour pickles and/or pickled peppers (as in the classic Chicago char-dog above), you need freshness and zinging acidity more than anything else in terms of your pairing profile.
Our Roero Arneis Cayega is a great choice (in our humble opinion): It's got the freshness and the zing and it has such brilliant, vibrant white fruit flavor that it will really work beautifully against the tang of the mustard and the pickled flavors.
But our Roero Canorei, which is fermented and aged in cask, has a slight smokiness to it that will also work extremely well with the "char" of the dog.
Hot dogs and Roero Arneis: What could be a more moderna and delicious pairing?
Whatever you are drinking this Fourth of July, we wish you a happy (and safe) holiday!