• Hospitality, Wines
Best wine pairing for raw oysters? It might just be Arneis…
Reading time in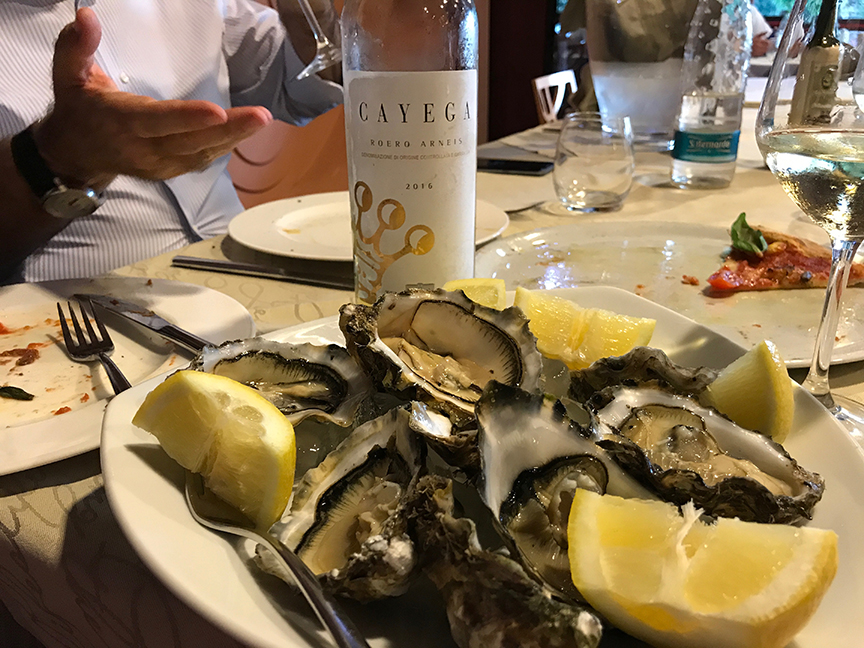 We know, we know! We've been on something of a wine-pairing kick for the last few weeks.
But since our American blogger happens to be visiting Piedmont this week, we couldn't resist taking him to one of our favorite pizzeria/restaurants in Vezza d'Alba, Io Pizza (not far from the Tenuta Carretta estate).
The host of the restaurant, a lovely Neapolitan gentleman, insisted that we start out with a delicious marinara pizza, topped with salt-cured anchovies, a classic.
But when he heard that we were in the mood for fish, he suggested that we have the oven-fired branzino (a great idea) and he raved about the raw oysters he had just received.
It was just what the doctor ordered on a balmy July evening in Langhe!
Honestly, we weren't sure if the Arneis would work with the mollusks. After all, the classic pairing for raw oysters is Muscadet, where the intense minerality of the wine works in tandem with the extreme saltiness of the dish.
But man o man, the fresh white flower and bright white fruit character of the wine turned out to be a brilliant counterpoint to the briny, meaty bivalves! And the light and supple texture of the wine seemed to sing in harmony with the slight grittiness of the dish, the perfect refreshment for this standby of summer.
As much as conventional wine wisdom would seem to counter the appropriateness of the pairing, it would seems that sometimes (even if) it (doesn't) grow with it, it goes with it!