Harvest 2017 has begun!
Reading time in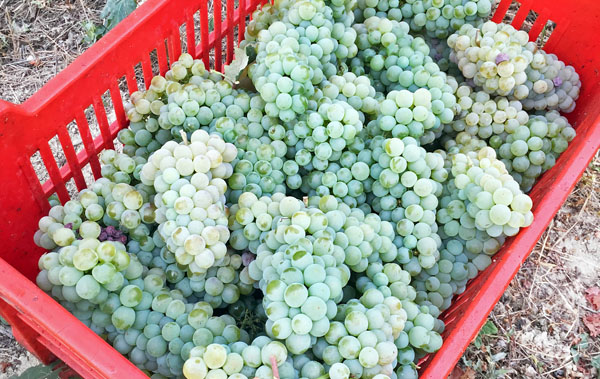 On August 16, we began the 2017 harvest at Tenuta Carretta by picking the first white grapes. In Malgrà, we started last Wednesday, August 9, picking our Pinot Noir and Chardonnay for the base wine that will become our classic-method sparkling Alta Langa.
The summer was unusually hot this year. June and July were marked by very warm days and nights that were cool because of scattered rainfall. Thanks to these conditions, all of the grape varieties ripened on the very early side. This was due especially to an early budding caused by anomalous and prolonged high temperatures in the second half of February and the first half of March.
The lower temperatures that arrived in April culminated in frost on April 18 and April 20. These weather events dotted a wide swath of northern and central Italy, affecting certain spots and sparing others. But not even an unusually cool May could slow the vegetative cycle of the vines.
All things considered, the 2017 vintage was an anomaly for Piedmont and it will remembered, together with 1997, 2003, and 2007, as a vintage in which the ability of grape growers was put to the test by challenging climatic conditions.
In terms of quality, 2017 will be remembered as a challenging vintage for white grapes. The important thing is to choose the right moment for picking each variety. As far as red grapes are concerned, like Dolcetto, Barbera, and Nebbiolo, the vintage should be an easier one. These varieties have been helped by this year's climatic conditions. At the moment, it looks like they ripen fully, although much earlier than usual.
The lab analysis of the grapes is reason for optimism at this point. The grapes are perfectly healthy, with balanced acidity and sugar levels that aren't too high. This is a sign that that the vegetative phase was slowed by temperatures that were high but were also in overall harmony with the vegetative cycle.
Obviously, it's impossible to predict what will happen over the next few weeks. If conditions don't change — and we don't receive the rainfall that we traditionally get at the end of August and the beginning of September — we estimate that there will be a 15 percent decrease in yield with respect to last year. This is due to the smaller size of the berries and the smaller amount of must that we will obtain. And this, inevitably, will have an impact on the production cost (and the prize) of the wines.
In any case, we will have to wait for another month to see what happenes. In the meantime, cross your fingers!