• Winery
What is the difference between Menzione Geografica Aggiuntiva and Cru?
Reading time in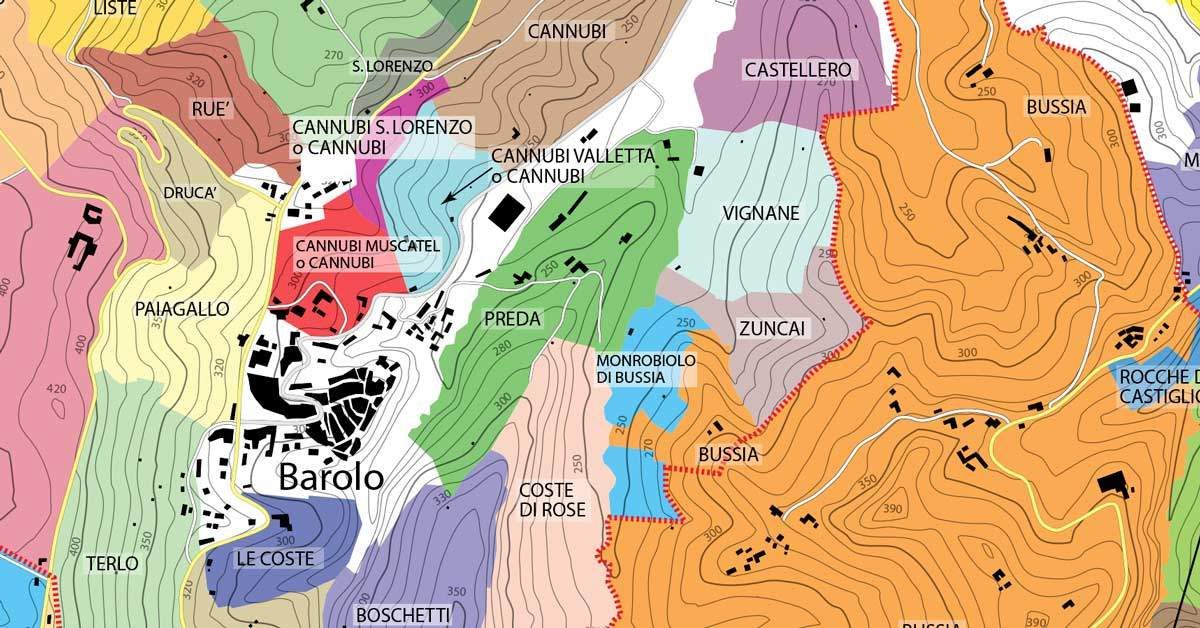 We asked Giovanni Minetti, CEO of Tenuta Carretta and former President of the Consorzio di Tutela Barolo e Barbaresco. With precision and clarity, he explains the origins, development and characteristics of the Menzione Geografica Aggiuntiva of Barolo and Barbaresco.
A recent statement by Riccardo Cotarella  Riccardo Cotarella has given us the perfect opportunity to discuss the difference between French crus and Italian classification systems. The celebrated winemaker claims that in Bordeaux a plot that has been "raised a few metres with a bulldozer" are called cru and so are allowed to triple the price of the wines. While in Italy, on the other hand, where the natural diversity is incredible, we do not know how to "highlight our qualities." Is that truly the case?
I don't believe that Cotarella meant it in this way. Let's say more that in comparison to France we continue to pay the price, if not in technical terms as I believe we are equal in the vineyards and in the cellar, but in cultural terms. We lack awareness in our strengths and so we do not work on our weaker points. I am speaking of the aspects that affect all wine producers. It is not that we do nothing, it is just that we are slow. We still think it is possible to solve problems by acting at an individual level, but the world is in a hurry… obviously, I am speaking of the reality I see in Piedmont, which in my perspective, is at least ten years ahead of the rest of Italy.
You were previously the President of the Consorzio di Tutela Barolo e Barbaresco. Why was the system of Menzione Geografica Aggiuntive (MGA) created? 
In the '90s the world rediscovered Barolo, which had changed dramatically in comparison to the rough wines of the past. From a hard, rough and astringent wine with high acidity, discoloration and 'heavy' aromas it became a wine without oxidation, wonderful fruity aromas that express the best of the Nebbiolo grape with ripe and sweet tannins that give balance and harmony. This change resulted in prodigious consequences. Barolo began selling out, the prices increased and so did the surface area of vineyards. From 1192 to 2015 the number of vineyards and producers doubled. Obviously with new producers there was a rise in new labels, new ways to distinguish one from the other. Producers began personalizing their labels with more than just the main appellation – Barolo or Barbaresco – but with the names of the vineyards, villages, people, words in dialect… a situation that quickly got out of control. So, the first priority was to create some order, delineate and define the different wine-growing areas, whether they be historic or more 'new,' as they were commonly recognized. It was tedious work that was really only achievable by an organization that could provide the necessary 'political' and administrative support. The Consorzio was the obvious choice and I, as the President at the time, obligingly took it on with the Board of Directors. It was a job that needed the collaboration of many and I continue to feel immense gratitude to all the mayors and municipal administrators, the Comitato Nazionale which was presided by Senator Zanoletti at the time and the locals Gianluigi Biestro and Terenzio Ravotto who held various committee seats for their work. Above all, I must continue to thank the commitment of the staff of the Consorzio, Director Claudio Salaris and Fabrizio Mascarello.
It was a grand, collective project then?
It was, for once, a truly collaborative experience. Great teamwork. We began with Barbaresco as it is smaller in size – there are only 4 municipalities within the appellation. We defined 66 Menzione Geografiche Aggiuntive and were officially included in the 2007 Production Guidelines. The situation was more complex for Barolo as there were more consolidated business interests and a great area to cover. We needed a significant amount of time to do it justice. In the end 181 area were defined – 170 new names plus the names of 11 municipalities that represent the core origin of the wine – and were approved in 2010 for the Production Guidelines. Our intent was never to classify, but to create administrative delineations as required by law, of areas that were smaller than the prinicipal appellation.
Why are they called Menzione Geografica Aggiuntive? 
It was obligatory. The term Menzione Geografica Aggiuntive was first used in a governmental decree published a few months after Legge 164 (a piece of legislation) was passed in 1992. The legislation was basically forgotten and never applied in any specific way and was our only true point of reference in terms of legal classifications. The law was passed by the Minister of Asti, Mr. Giovani Goria however it was the luminary enologist, Professor Mario Fregoni who defined the applications of Menzione Geografica Aggiuntive. Barbaresco and Barolo were the first Italian appellations to use this classification systems, which has only extended to Roero in 2017. For now, no other Italian wine regions have followed our example just further confirming the ability of Piedmont wine makers, particularly in the Langhe and Roero, to anticipate the times.
Matteo Ascheri, the current President of the Consorzio di Tutela Barolo Barbaresco Alba Langhe e Dogliani, has said that MGAs are "improperly called cru." What is the difference between the two? 
The menzione (mention in English) is a geographic marker that is aggiunta (added) to the primary appellation to indicate a smaller area. In regards to a "cru vineyard," this is a different classification; vineyards are owned, and so their size, is independently distinguished while a menzione has a collective value, it affects more producers. The French concept of cru is derived from the verb croitre, which means to grow, and so is more place specific. It identifies a very specific place of production, where factors that may not even be natural are used to differentiate the uniqueness of each wine, even from wines grown in similar conditions in nearby areas. In addition to cru, there is the term climat used in France that is not well known in Italy to indicated a larger growing area composed of many crus. This concept is much more similar to our MGAs. Essentially an MGA is not the equivalent of a cru because a cru defines more specific characteristics of an individual vineyard. It is also important to remember that these terms developed independently of each other. They are specific to the cultural, technical, administrative and market experiences of each country and in Italy this is a very recent development, as I mentioned before.