• Winery, Hospitality, Wines
Flavio Costa in the Kitchen: My Childhood
Reading time in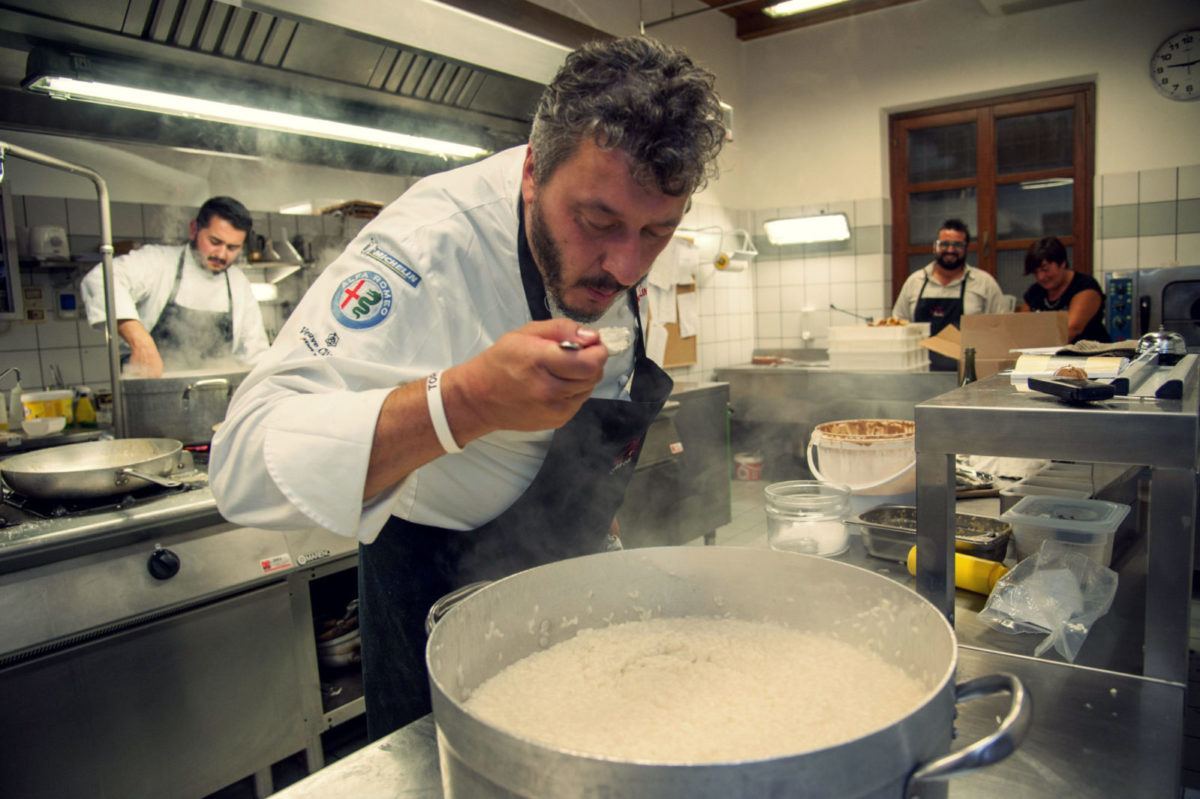 Flavio Costa, Ligurian by birth and Piedmontese by choice, is the executive chef at 21.9, the Michelin-starred restaurant housed at Tenuta Carretta. When it comes to cooking, his inspiration is clear: flavours embody emotions, and emotions come from memories. The task of the chef is to communicate these emotions, transforming them into moments of remembering.
Flavio, where do you find inspiration for your cuisine? 
From the tastes and scents from my childhood. I have vivid memories from my family kitchen: the pheasants and game my grandfather hunted and brought back to the table and the fresh vegetables tended to and picked by my grandmother from her backyard garden. These are the memories I try to share with my guests, the traditions of my family conveyed anew.
Even the name of your restaurant is an homage to your best memories. 
Exactly.
Is your kitchen deeply connected to seasonality? 
I feel as though I am quite extreme with this. Emotions are truly particular moments and so I try to respect the natural rhythms to find the right moment. This guides me in choosing produce only when it is season, which best reflects the real cuisine of the territory. Game, for example, will only ever be on the menu in the fall and is entirely dependent on what nature brings us.
Speaking of territory, what is your relationship with the Langhe? 
The greatest riches of these hills are to be able to live in close contact with the people who grow our food. A chef has a duty to go to the source of a product, and here I can do it directly. It is easy to knock on the door of those who are growing and making the very best this land has to offer.
And with Ligurian cuisine, your home territory? 
Liguria will always be a fountain of inspiration because it is part of me. My warhorse, the "trombetta" cream of zucchini with black cuttlefish and candied lemon, is a dish that has followed me since 1999, when I first opened the doors to my restaurant in Savona. It is my culinary signature, a success I will forever defend as it is my innovation that will become tradition.
What are your thoughts on wine? 
Food and wine pairings fascinate me. I like to match wines beginning from a set menu, or creating a new menu around certain wines to pair. What is great about wine is that there is always something new to try, a new match to make, and above all, a common thread between a recipe and a wine that can bring a meal to another level.
Which Tenuta Carretta wine would you pair with your trombetta cream of zucchini?
Definitely, Cayega. It is a refreshing Arneis with a subtle saline note that enhances the taste of the fish.