• Winery, Hospitality, Wines
Merry Christmas Pairings!
Reading time in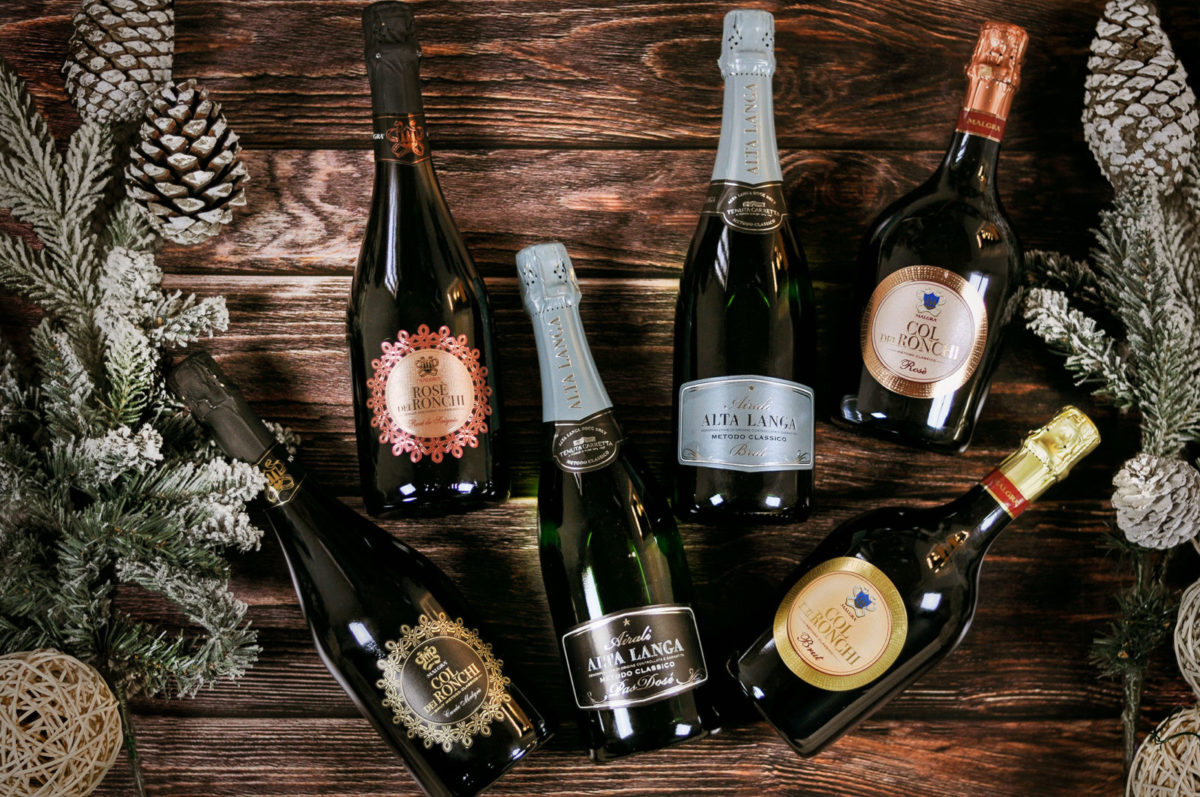 Christmas is upon us. The dishes and recipes of family tradition are laid upon the table, but which wines to pair? Here are our suggestions.
BEGIN WITH TASTE 
It is not Christmas without an abundance of appetizers and sides. Russian salad, mashed potatoes, lentils, crostini with fresh cheese, salads with citrus, salmon with lemon, or the classic shrimp cocktail.
For any accompaniment to the main meal, we recommend our Airali Brut Alta Langa DOCG. Made from Pinot and Chardonnay grapes grown in soils characterized by sedimentary calcareous marls, Airali is the perfect choice thanks to its freshness and flavor, which at every sip, increases the pleasure of any taste.
TRIUMPH OF THE FIRST COURSE 
The first course in Italian Christmas tradition is always a fresh pasta. Agnolotti, ravioli stuffed with meat or fish, tortellini in broth, tagliatelle, lasagna, and further South, fish stews served over linguini, pasta with broccoli, and spaghetti with anchovies.
With these styles of firsts, a versatile wine that can adapt to the flavours of the pasta and to fish, is necessary. Something that maintains freshness. Our choice is to stick to a bubbly white, such as our Brut Metodo Classico Cuvée Col dei Ronchi, a very special sparkling wine that is aged for 120 months on the lees in the cellars of Malgrà, a Monferrato winery. Its mellow notes of dried fruit and bread crust will match nicely with any type of pasta you could desire.
A PASSIONATE SECOND COURSE 
The Christmas table abounds with rich second courses. Meat in the North with platters of mixed boiled meats and savoury sauces, roasts with potatoes, braises, cotechini with polenta, tripe with sauce and capon, roast goat kid or roe deer. In the South, baked and roast fish with vegetables, boiled cod, fried eel and sardines are preferred.
These are dishes to satisfy, the sauces are thicker, there is ample fat, and the aromas are succulent. These are dishes that need a wine that can clean the palate and not further weigh the mouth down. With meat dishes, a red is a must. We recommend the Roero DOC Riserva Bric Paradiso which is aromatic, elegant, fresh, and capable of being light and intense. With fish we suggest to continue with white wine. You can't go wrong with Cayega Roero Arneis, its mineral character will pair great with seafood.
DESSERTS WITHOUT REST 
Christmas is the time of sweets. Each region has their own tradition, but you'll be guaranteed to find a Panettone and a Pandoro on every table. There are the symbols of the holidays. Whatever the dessert, no wine can stand up to Moscato d'Asti. Its fruity notes pair nicely with any sweet without being cloying in the mouth. We recommend our Moscato d'Asti DOCG, a young and fragrant wine with balancing notes of sages, lemon and ginger.
JUST ANOTHER TREAT MORE 
Chocolate abounds this time of year. Wrap up a meal by unwrapping a piece or two and pair it with a glass of Barolo Chinato. It is an aged Barolo that has been infused with bitter herbs to aid digestion, such as china calissaja, cinnamon, rhubarb, carnation, and gentian. It will be a sweet-bitter contrast to satisfy.