• Winery, Hospitality, Wines
Casa Cayega is back at Tenuta Carretta
Reading time in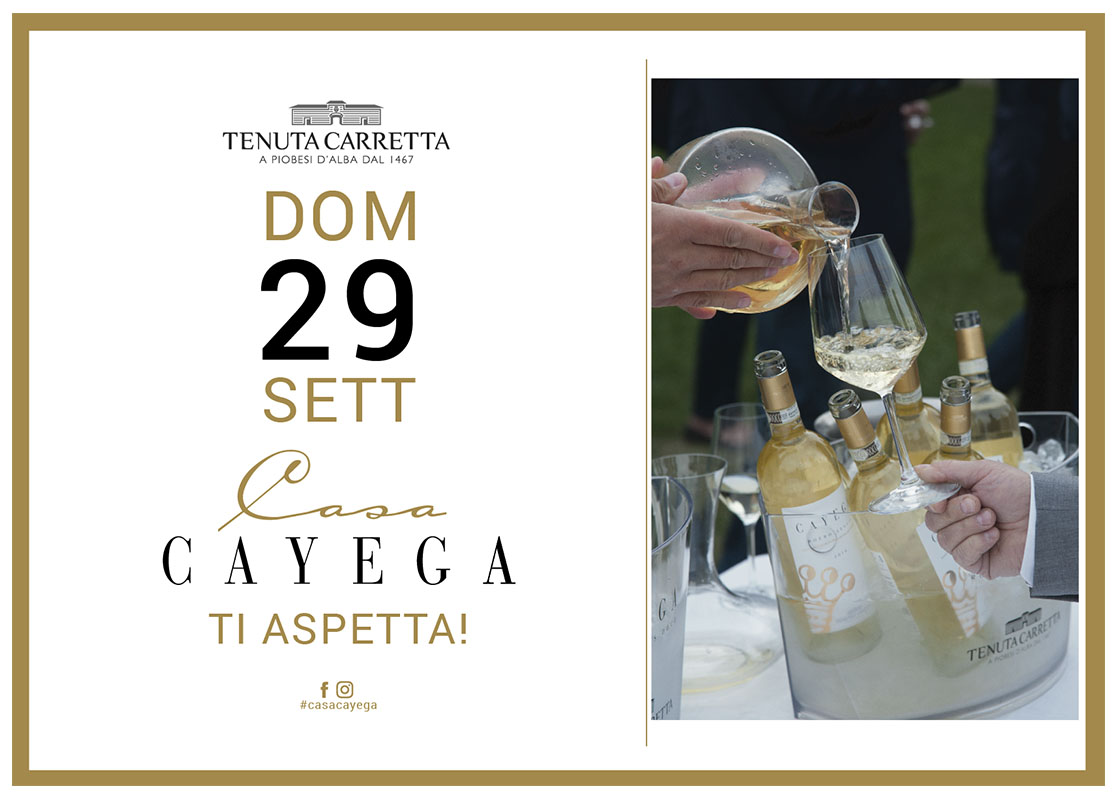 Autumn is bustling at Tenuta Carretta! After last year's hit, Casa Cayega, the event held at Tenuta Carretta in honor of the Cayega, the Roero Arneis with a "pop" and fun soul, is back on Sunday 29th of September.
It is a day of celebration, and also to explore Tenuta Carretta's universe and wines through its most refreshing and famous "white": the Cayega Roero Arneis DOCG. It will be an event full of activities devoted to wine and to the joy of being together with your family.
To be held on Sunday 29th of September, Casa Cayega is the perfect chance to visit Tenuta Carretta, see the lands of Roero and taste all the excellent wines and dishes offered by this abundant land, all in one place.
It all starts at 11 in the morning (and, again, at 3pm), with the possibility to be a "Winegrower for a day", and participate in harvesting the arneis directly from the rows of Tenuta Carretta. Alternatively, also at 11am, you could walk along the surrounding vineyards, passing through "Grape's Road": the first vine-trekking trail that you can roam on your own, thanks to the available audio guides which can be downloaded on your phone. The day will carry on with wine cellar visits (at 11am, 12nn, 3pm and 4pm), with the opportunity to taste wines produced by Tenuta Carretta.
For an unconventional lunch, there is "Stellar Picnic" (from 11am to 3pm – booking in advance is strongly advised): you can feast on bountiful and sumptuous baskets filled with Tenuta Carretta wines and gourmet sandwiches prepared by Michelin starred chef Flavio Costa. To those who are interesred, Flavio Costa will also be preparing lunch dedicated to the Cayega at his restaurant 21.9 (reservations are required, contact info@flaviocosta.it or call +39 0173 619261).
In the late afternoon, you can ease off at "Verticale di Cayega" (at 5pm), an exclusive moment to admire Cayega's old vintages and observe the evolution of this extraordinary Arneis. Casa Cayega will wrap up with the "Happy Cayega Hour" (starting at 6:30pm), an apericena featuring Tenuta Carretta wines and finger food, courtesy of Flavio Costa.
Leisure activities for kids and music will be guaranteed all day.