• Winery, Hospitality, Wines
Cereja, Tenuta Carretta's elegant rosé
Reading time in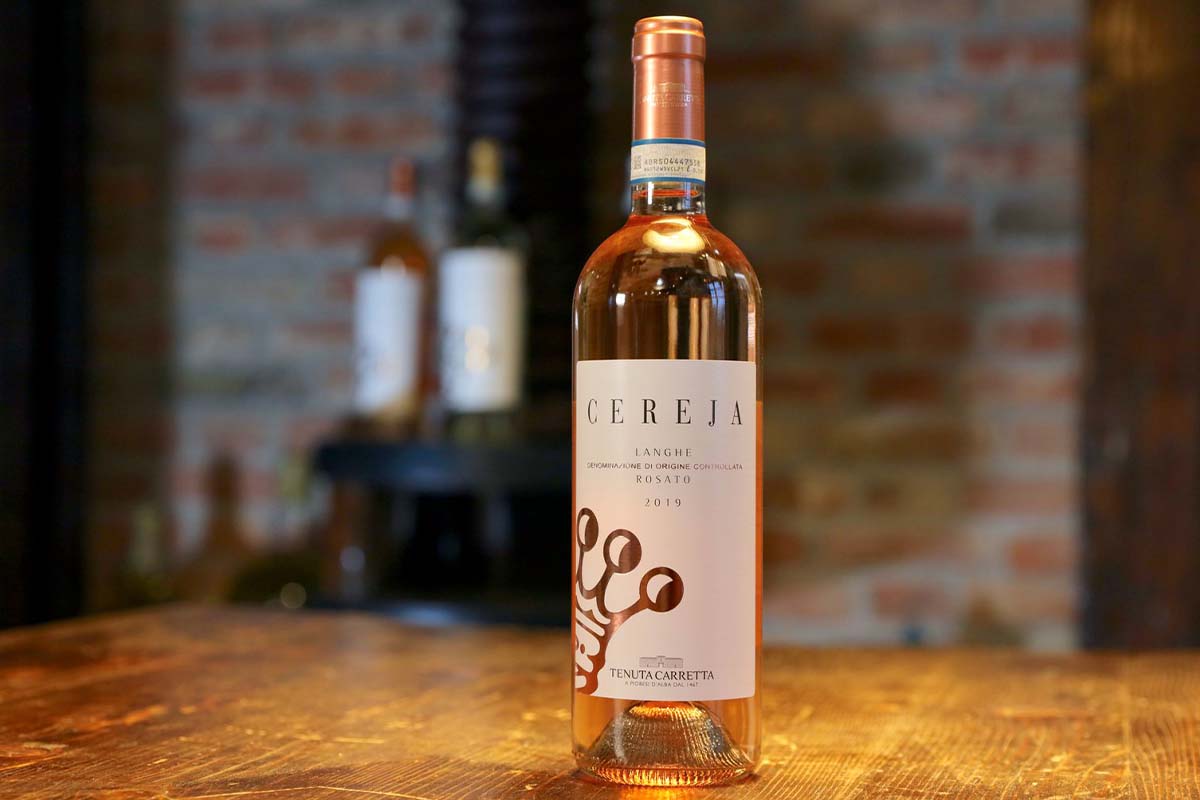 White or red? Rosé.
There's no denying it. In the world, rose is the color of the wine that has recorded the greatest growth.
Rosé wines, according to data from IWSR, the main international research center on the Wine & Spirit market, have grown by 20% since 2002, so much so that they have carved out a specific target audience that analysts have defined as Millennial Pink: young people around 30 years old, especially women, who prefer powder, cherry, light or soft, the most common characteristics of contemporary rosés, to the classic ruby / gold duo .
Again, according to the analyzes, the choice of rosé wine would be dictated not only by taste, but by the "chromatic novelty" it brings to the table. Millennial Pinks choose rosé because it represents a cooler and more easily instagrammable color, which means that it is camera-ready and can be posted on Instagram. Proof of this is the growth of online sharing of photographs dedicated to rosé which, in the most varied and creative ways, fill the pages of the popular social network: the hashtag #rosé has more than 39 million contents and those more specifically related to wine like #rosewine and #roséallday have over one million posts.
Leading the production of rosé – which counts around 26 million hectoliters (less than 10% of the total wine production in the world) – is France with 28% of production, followed by the United States (17%) and Spain (15%). Italy contributes for 10% but it is not the quantity that is surprising, rather the demand. According to the data offered by Wine Monitor and published in the report Vino rosato italiano, mercato e trend, in the last two years, physical and online wine shops have had an increase of 20% in sales, passing from a sales revenue of 75 million in 2016 to over 85 in 2018.
However, the same report reveals, consumers do not precisely remember the origin of the rosé wines they have purchased and, in the case of Italian labels, they are unable to indicate the region they belong to. A clear sign that it is still difficult to recognize the various "lands of rosé wines" in Italy and that the quality of these products has yet to become "memorable", in the literal sense of being able to be remembered.
THE "ROSÉ" OF THE LANGHE AND ROERO
On the hills of the Langhe and Roero, the issue is even more delicate. Here, rosés do not have a long history of production and most of wine communication is clearly oriented to the great reds – especially their MGAs – and to the few, but important, native and traditional whites, above all the Roero Arneis.
But Piedmontese rosé exists. And it must be given due importance. Especially because the Langhe and Roero are actively contributing with important "wine innovations" in the area of rosé wines, which not only give the picture of a sector in constant evolution, but also indicate that, regarding experimentation, Piedmontese producers (and vines) are "ready for change". In particular, Nebbiolo and Barbera, two varieties that, put to the "test of rosé winemaking", have yielded wines with a strong identity, capable of carving out interesting market niches and, above all, revealing their belonging to hills that are UNESCO World Heritage Sites, combining freshness and character, elegant structures and excellent drinkability.
CEREJA, A FRESH AND ELEGANT LANGHE DOC ROSATO
A challenge of expressing "territoriality in rosé" that Tenuta Carretta has also wanted to take up with the Cereja label, which is named after a typical Piedmontese greeting of warm welcome: «Cereja!», but it also subtly hints to a shade of pink that has the common root of the word "cherry" (in dialect "ceresa"). A rosé exclusively made with native grapes, Nebbiolo and Barbera, harvested from property vineyards.
Cereja acquires its delicate salmon pink color thanks to a short maceration on the skins, which are then eliminated. It ferments in stainless steel at a controlled temperature for about 3 months and, after being bottled, it rests for a further 3 months before being released on the market. The result is a wine with an intense and fragrant aroma, which elegantly combines vegetal scents with floral notes, presenting a typical hint of spice, signature of the Nebbiolo grape. Fresh, savory and mineral, Cereja is lively and elegant, but well-structured and suitable for accompanying any meal, ideal for an aperitif, fish-based dishes, fried food, shellfish and seafood.
One last recommendation: in order for Cereja to release its wonderful bouquet, it should be served fresh but not frozen, at a temperature between 12 and 14 degrees.