• Winery, Hospitality, Wines
Cappon Magro and Airali Alta Langa, serve a masterpiece for Christmas!
Reading time in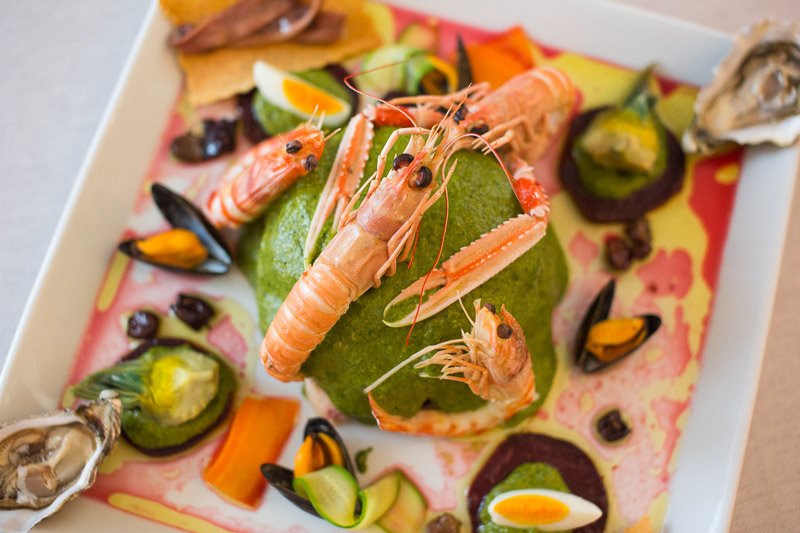 A very traditional dish from Liguria, the sumptuous Cappon Magro has gone beyond regional borders and is today one of the symbolic dishes of northern Italian cuisine. Especially during the holidays.
Although not easy to prepare, it is a Christmas classic that delights guests and amazes them for the beauty and richness of its flavors. A dish that, when brought to the table, makes everyone say a whispered «Wow!», something all chefs would like to hear.
So, what is Cappon Magro and how is it prepared? And which wine matches it best? Follow us and we will see it in detail.
THE "MAGRO" OF FISHERMEN
Don't be fooled by the term «Cappon», because this is not a meat dish, but a fish-based one. Actually, Cappon Magro is an ensemble of different types of fish "set" in a single impressive recipe.
Like most traditional dishes, Cappon Magro is the result of "recycling" leftovers: it is said that it was the meal of the fishermen's families who, diligently, reused fish scraps or leftovers from the banquets of the nobles. But today, Cappon Magro is anything but poor: it has somewhat become "regal", including a variety of fish and preparation techniques that are no longer the leftovers of a Christmas banquet.
This recipe originates from the caponadda, a salad that was prepared on the boat without needing to light a fire: all you needed was oil, oregano and salted fish. It was eaten with hardtacks, the so-called capón de galea, which in Ligurian means «boat capon»: an ironic name that further highlighted the harsh comparison between the succulent capon eaten by rich families, with the unleavened bread soaked in water, the traditional food of seamen.
But how did this frugal meal become today's culinary masterpiece? Probably thanks to the economic boom, which allowed families to buy, at least during the holidays, all the fish necessary to – literally – upgrade the caponadda with all sorts of delicacies, always and in any case maintaining a traditional spirit.
WHAT PAIRS WITH CAPPON MAGRO?
Since this is a fish-based dish that is eaten cold, nothing works better that Airali Brut Alta Langa Docg: its intense hints of bread crust, nuts, dried figs and honey will blend well with the thousand flavors of Cappon Magro, occasionally cleansing the mouth with its fine perlage and urging for another bite of this masterpiece.
HOW TO PREPARE CAPPON MAGRO?
Recipe for 6 people
The recipe is quite intricate, but we will try to summarize it by proposing the Cappon Magro as it is still made in Liguria.
INGREDIENTS
3 large boiled potatoes
3 garlic cloves
1 baked beetroot
1 small cauliflower
4 artichokes
8 carrots
350 g of scorzonera
celery and fennel
1 white-fleshed fish of about 1 kg (for example sea bass, sea bream, snapper, bream, capon, redfish, gurnard or others)
250 g of hard tack biscuits
king prawns for garnish
lobster
slices of bottarga
1 lemon
Ligurian extra virgin olive oil
Salt
White wine or apple vinegar
PROCEDURE
Clean the fish you have decided to use. Boil it in salted water, with celery and carrot, drain it, and then strip it. Season the pulp with extra virgin olive oil, salt and a little lemon juice. Set aside. In the same cooking broth, boil the lobster for about twenty minutes, depending on the size. Remove the shell, which will be then used as garnish. Then prepare the vegetables you have decided to use. Clean and wash them, and put to boil al dente in salted water. Drain and cut them into slices of about 1 centimeter thick and then season with oil, salt and a little vinegar. The beetroot should not be boiled. It is important to cook each vegetable separately from the others, and then season them again separately. Cook the crustaceans and mollusks you have decided to use for garnish, again separately, as they have different cooking times. Drain them and set them aside too. Rub the garlic on the crackers, moisten them slightly with water and vinegar and let them soak between two plates.
The structure of Cappon Magro is a sequence of layers: crackers, white fish, and then a layer for each vegetable, and each layer is seasoned with green sauce. Take a fairly large cylindrical truncated cone container (for example a saucepan), and then cover it with cling film. Choose an order for the vegetables, trying to alternate the colors well. Place an even layer of the first vegetable on the bottom of the container, press lightly to compact it. Sprinkle it with green sauce, and distribute a few thin slices of bottarga, if you decide to use them. Continue with the second and then the third layer, until the last vegetable. Then make a layer with the fish pulp, and sprinkle this too with the green sauce. Finally, finish with a layer of previously prepared hard tack biscuits.
Visualizza questo post su Instagram
At this point you can leave your Cappon Magro to rest in the refrigerator. When it is time to serve it, overturn the container with the Cappon Magro over a large serving dish, and remove the film that covers it. Sprinkle it with more green sauce, and then start to decorate it. You can shell the crustaceans leaving the heads or leave them whole. Try to distribute the ingredients you have chosen in an eye-catching way, altering the colors well. Do not overcook the vegetables and fish: the colors must be bright and everything must have a certain consistency. Drain everything very carefully, and do not over-season the various vegetables and fish. Usually, after preparing the Cappon Magro there are various leftovers of vegetables, fish, sauce, biscuits and garnish.
Visualizza questo post su Instagram
At this point, do like a real Genoese: prepare "the ugly skinny duckling". Just put everything in a salad bowl and mix. You will have to eat it for many days, and every time it will be tastier!