• Winery, Hospitality, Wines
Portraits of Tenuta Carretta, Ivana Brignolo Miroglio
Reading time in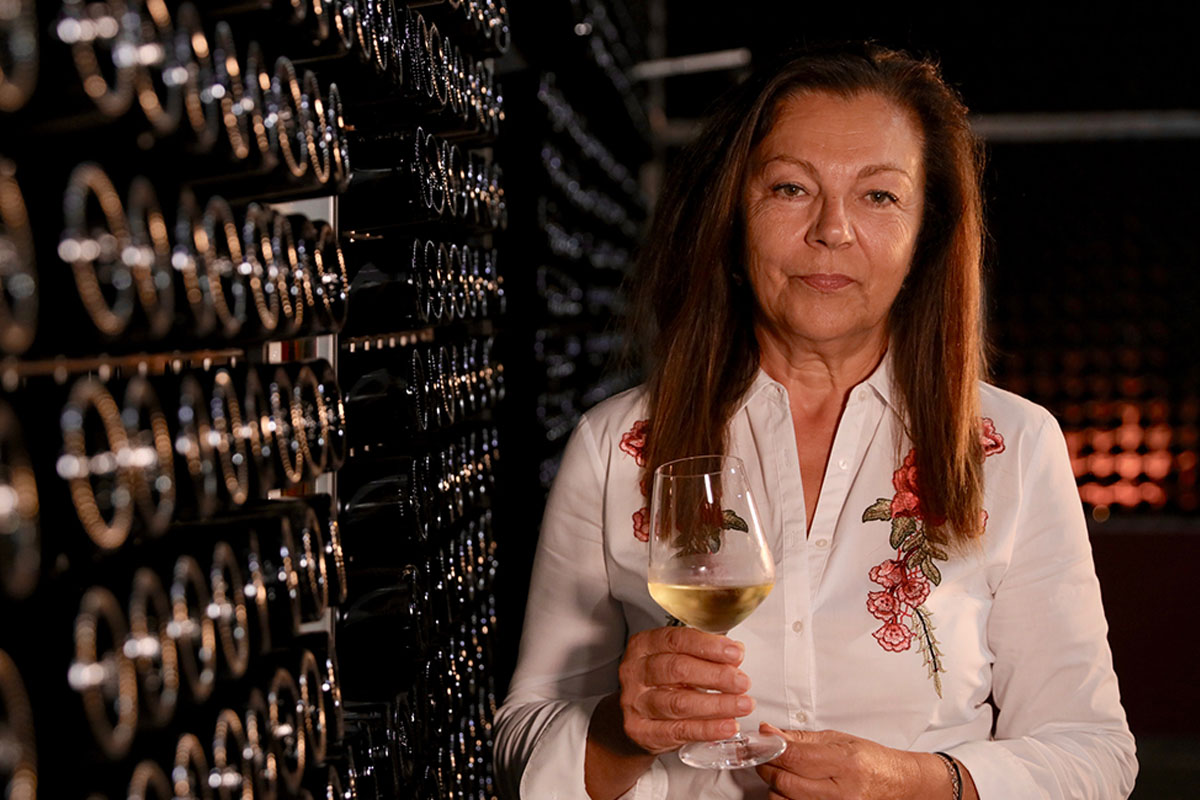 Born in Asti and adopted by Alba, Ivana Brignolo Miroglio is a multifaceted woman. She was a teacher of physical education and councilor for culture of the municipality of Alba. Today she is a vigneron at the head of the Terre Miroglio group (of which Tenuta Carretta is part) together with her husband Edoardo and children Marta and Franco, entrepreneurs in the textile sector.
She also became a grandmother "for the fifth time" with the birth of Diana, the last of her five grandchildren. Not to mention the commitment to social and voluntary work, which has always seen it at the forefront. "And let's not forget the National Association of Women in Wine", she reminds us as we interview her, "of which I have been the delegate for Piedmont since 2019".
Mrs. Miroglio, when did you start to be passionate about the world of wine?
Wine is a recent discovery, I confess. I also confess that until ten years ago I was a teetotaler. The proximity to Tenuta Carretta, however, and my husband's great passion for the sector, brought me back to something that was part of my roots. After joining the Women's Wine Association, I got infected by their experience and their enthusiasm, of which wine was the fuel, a symbol of shared sociality. I thus deepened my knowledge with courses, tastings and experiences in the vineyard and in the cellar that have reactivated intense memories of my childhood. I discovered that wine has always been part of me, ever since, as a child, I watched my grandfather harvest the rows around our farmhouse in the Asti area. The scents of the wine brought me back to the courtyard where the grapes were pressed and a glass of Barbera was shared to celebrate the harvest.
The Miroglio family has a background as entrepreneurs in the textile sector. How did the desire to invest in the craftsmanship of wine come about?
My husband Edoardo comes from a family that has always had a close relationship with the land. In 1985 he bought Tenuta Carretta to recover a contact with nature. His initial project was to start a horse breeding business, but he was literally struck by the wine and the potential of the vineyards surrounding the winery, then as now. It then starts a long process of recovery and enhancement of native vines, with the expansion of the owned vineyards to areas of absolute value, in the Roero as well as in the Langhe. Today that passion for wine continues to fascinate our family and is manifested in our desire to continue investing in the production of quality wines. Suffice it to say that falling in love with wine convinced my husband to found a winery in Elenovo, in ancient Thrace (Bulgaria): a courageous and somewhat pioneering experience, which exports Piedmontese winemaking expertise to a territory ancient but still to be discovered.
What is your earliest memory of Tenuta Carretta?
If I have to be honest, a not very positive memory (laughs heartily). I came to visit the estate with my daughter when she was still small and she almost sprained her ankle jumping from the embankment alongside the road. Apart from that, we went up with Edoardo to the former manor house on the Bricco del Podio, a beautiful farmhouse of noble origin that today we would very much like to restore to its former glory. From there we observed the amphitheater of the vineyards with the profile of the Monviso in the center. It was a very strong emotion, a beauty that is still engraved in my memories.
This year, Tenuta Carretta turns 555 years old. How will you celebrate this important anniversary?
For some years we have chosen to celebrate Tenuta Carretta together with friends, customers and wine lovers through the format of Casa Cayega, a harvest festival full of music, tastings and gastronomic moments, open to all. We will celebrate 555 years through Casa Cayega, in an enriched form, trying to combine the wine experience with other "artistic contaminations". We are studying the program of the event in detail, which will be held in the first two weeks of September.
Finally, an "uncomfortable" question. What is the Tenuta Carretta wine that you carry in your heart?
To have a minimum of fairness, I must at least be able to choose a red and a white.
Okay, we grant it.
For the red, my heart beats for the Barbaresco Docg Riserva Cascina Bordino. Among the whites I choose theRoero Arneis Docg Cayega, obtained from the white grape variety prince of Roero. It is a difficult choice, however, because I also really like our Langhe Doc Favorita. But there is another dream that is gradually coming true: I convinced my husband to invest in Alta Langa, with the establishment of a viticultural center of extraordinary beauty, in Cissone, for the production of the Classic Method. A winning choice and a beautiful adventure from which Brut and Pas Dosé Airali are born, both excellent!