• Hospitality, Wines, Winery
Casa Cayega 2022: Tenuta Carretta celebrates 555 years of history
Reading time in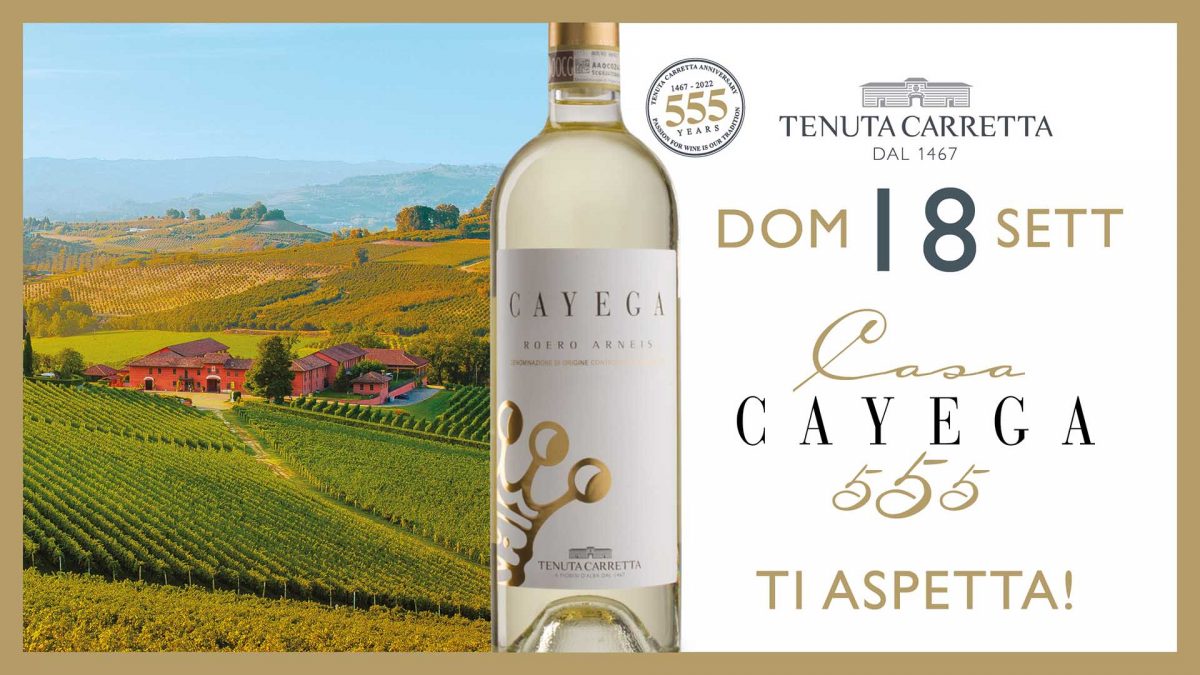 The Miroglio family opens the celebration of the winery's remarkable milestone with a concert featuring the soprano singer, Maria Agresta.
2022 marks Tenuta Carretta's 555th anniversary. Many years have passed since 28 November 1467 when "cassina Careta" was first mentioned in an official document, identifying its location in the land where the winery still stands today. Such a milestone has been reached only by a few other wineries in Italy, placing Tenuta Carretta among the most historical ones in the country.
15 September – A concert with Maria Agresta
To celebrate this momentous achievement, numerous events – both public and corporate – including the city of Alba have been organized. The celebration will begin on Thursday, 15th September at 6:45pm with soprano singer Maria Agresta serenading the church of San Domenico in Alba. The concert has been actively organized by the owners of Tenuta Carretta, Ivana and Edoardo Miroglio, who wanted to offer an unmissable chance to witness the performance of an extraordinary artist and a renowned opera singer. Joining Agresta on the piano is Michele D'Elia.
«This year is an important milestone for our winery – says Ivana Brignolo Miroglio, head of the Terre Miroglio Group, which includes Tenuta Carretta, together with her husband Edoardo and their children Marta and Franco, who are also in the textile business – I wanted to continuously strengthen the confluence of art in Tenuta Carretta by organizing a concert featuring a world-class opera talent. We want to share this special moment with the city of Alba and opera enthusiasts, appreciating the perfect union of beauty and Italian genius. These are the same values that we strive to cultivate with passion and devotion in the cellar and in the vineyard, every day ».
Hailing from Vallo della Lucania, Maria Agresta debuted in 2011 with "Les vêpres siciliennes" by Giuseppe Verdi at the Teatro Regio in Turin, for the 150th celebration of the unification of the Kingdom of Italy. Since then, she graced the stages of the most prestigious theatres in the world – La Scala, the Verona Arena, London's Royal Opera House, the Metropolitan Opera House in New York and the Opéra Bastille in Paris – working with world-class directors such as Riccardo Muti, Antonio Pappano and Daniel Barenboim. In 2014, she won the prestigious Premio Franco Abbiati awarded by the National Association of Italian Music Critics and in 2015, she took part in the renowned New Year's Concert of the Teatro La Fenice in Venice, directed by Daniel Harding.
Admission to the event is free and seats are subject to availability. Please contact us for reservations by sending an e-mail to eventi@terremiroglio.com or calling +39 0173.619119 ext. 4 during business hours.
---
18 September – Casa Cayega 555
Another unmissable event is Casa Cayega 555, now on its 5th edition, to be held on Sunday, September 18 from 11:00am to 9:00pm. This long-awaited event is an exceptional chance for Tenuta Carretta to open its doors to all wine lovers. Casa Cayega is an open event that celebrates one of the winery's most iconic labels: Roero Arneis Docg Cayega, a symbol of conviviality and a pleasant drink for the entire meal.
Casa Cayega will be held in Piobesi d'Alba, with different activities in the cellar, courtyard and among the vineyards: a full immersion to the world of Tenuta Carretta. Trek among the vines along Grape's Road or enjoy a gourmet picnic and/or lunch prepared by Michelin-starred chef Flavio Costa. Join us for the inauguration of a special photo exhibition, Quattro Quarti. There are also activities for the young ones, winery tours and guided tastings. Enjoy an aperitif at the Happy Cayega Hour or be a Winemaker for a day, organized in collaboration with Movimento Turismo del Vino. Roam among the vineyards of the Tenuta and try your hand at harvesting Arneis.
The event is open to the public and admission is free. Some activities are restricted to a limited number of participants. Please contact us for reservations by sending an e-mail to eventi@terremiroglio.com or calling +39 0173.619119 ext. 4 during business hours.
---
Follow us on our social channels and stay updated
FACEBOOK – INSTAGRAM
DISCOVER THE COMPLETE CASA CAYEGA 2022 PROGRAM