• Winery, Hospitality, Wines
Maria Agresta: «Music and Wine Move Through Us With the Force of Beauty»
Reading time in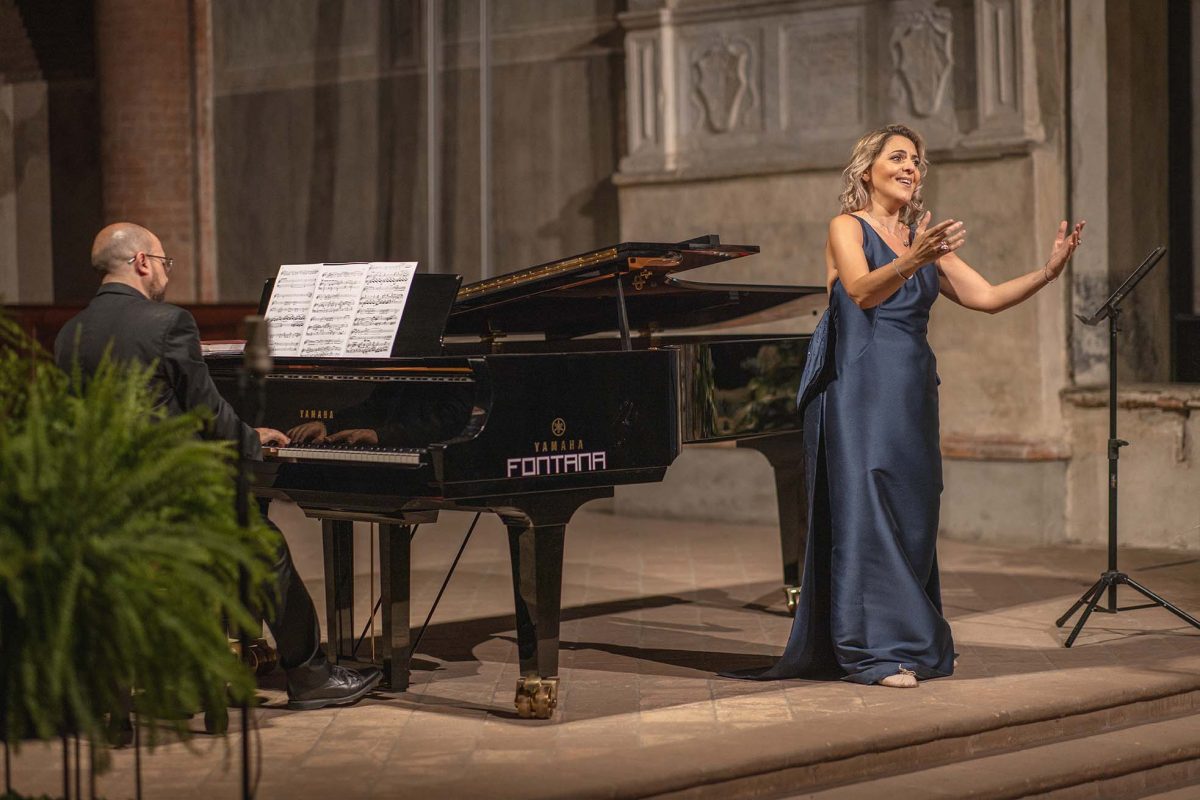 Celebrations for the 555th anniversary of Tenuta Carretta have been off to a good start. Inaugurating the festivities was internationally-acclaimed soprano, Maria Agresta. Last Thursday September 15, accompanied by Maestro Michele D'Elia on the piano, she delighted the city of Alba with a touching performance of pieces by Mozart, Fauré, Schubert, Tosti, Poulenc as well as Mascagni, Puccini, Cilea and Verdi. The duo performed at the 13th-century church of San Domenico, a Medieval masterpiece in Langhe equipped with excellent acoustics and immersed in a composed, almost mystical, ambience. 
We sat down with Maria Agresta and talked about the origins of her passion for music. 
---
Maria, how did your passion for opera music begin? 
I've always been pretty quiet as a child and singing, for me, was like a release, the only way I had to be contact with the outside world. I started singing when I was in kindergarten, at school plays, I even joined the parish choir. But I discovered my talent at my sister's wedding: I was 12 years old then and I wanted to surprise her with a dedicated rendition of Ave Maria. During rehearsals, I was able to harness what is called a «head voice», which comes out when the natural facial cavities are used as a resonating chamber. The people who heard me singing said that I had a gift. 
When did you realize that your passion would turn into a profession? 
The following year, during a school trip to the Teatro San Carlo in Naples. I felt chills sweep over me: it felt as if singing, opera in particular, was my destiny and that I could actively practice it. I studied to improve my technique and be admitted to the conservatory. I remember how my friends could not understand my sacrifices and did not appreciate opera singing. But I was completely fascinated by it. I held on and, although I knew that the path would not be easy, I never gave up. I took all the opportunities given to me and paid attention to what my fate was telling me.  
You have portrayed some of the greatest female characters in opera, is there one who has grown close to your heart?  
I have been extremely lucky throughout my entire career and have portrayed the most extraordinary roles I could have ever imagined. Among them, Vincenzo Bellini's Norma, who I portrayed in Paris, is the closest to my heart. I can still remember the moment as clear as day: I turned on the TV and the host of the program compared my performance to Maria Callas, fondly calling me the «nouvelle maîtresse». At that moment, I felt I had done something truly wonderful, as a woman and as a professional artist. But I was also aware of the huge responsibility that the comment entailed. The next day, for good luck, I went to Callas' home and humbly asked for her forgiveness: no one could ever compare to La Divina! 
There is a strong bond between opera and wine, as proven by works such as Falstaff, Don Quixote and La Traviata. What do you think singing and drinking wine have in common? 
Love, passion, energy. Music and wine share the beauty and wonder of a "force" that captivates all human senses. Wine and music move through us and, to be truly appreciated, they both make us listen. Not to mention, music and wine are both certified Italian excellences: two incredible masterpieces that our country offers to the whole world, and that we must defend with the utmost pride. 
Yet, opera is often considered as something specialized or extravagant: why do you think it is? 
Unfortunately, as with many of our excellences, the culture of beauty is lacking in Italy. Opera singing is certainly fascinating, but it is a complex form: it must be understood, internalized. That is why, whenever I am invited to sing, especially in small towns, I often propose to dedicate a few hours to teaching. Training the ear to listen must be done before the real listening begins: this might help young people to appreciate opera more and discover its profound wonder.  
We always ask the interviewees for the Tenuta Carretta blog this question: name your favorite label. 
I love cooking and I love wines. I particularly like Barolo Cannubi: it has a decisive, strong and exciting personality. This may make connoisseurs a bit uncomfortable, but I'm currently experimenting with Barolo, trying it as a wine for the entire meal! And I also love Cayega Roero Arneis: I toasted to this wine when I celebrated my birthday at the Teatro Real in Madrid. 
---
---