• Winery, Hospitality, Wines
Barolo Cannubi and Agnolotti del Plin
Reading time in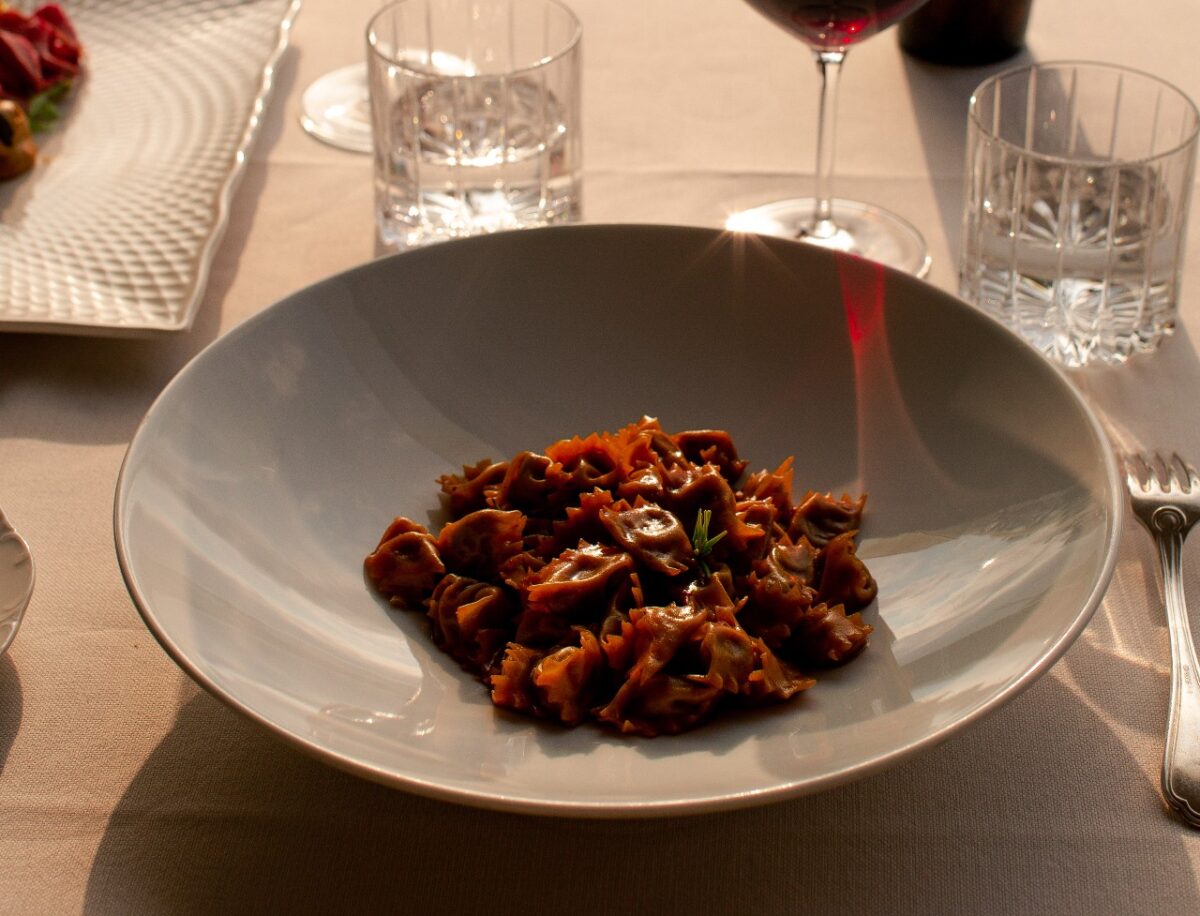 Agnolotti del Plin ai tre arrosti is one of the traditional Piedmont dishes served during the holidays.  
This extraordinary, sumptuous and delicious dish requires a lot of time and patience to be prepared. But once it arrives at the table, it unveils the grandeur of local cuisine (as well as its unique flavor, which immediately recalls Piedmont). 
When winter comes, Plin ai tre arrosti is a dish that will always be found in the menu at Locanda in Cannubi. This is one of the most remarkable restaurants in Langhe as it is located in the exact center of Cannubi: one of the most renowned vineyards in the world and the most important Menzione Grafica Aggiuntiva (MGA) of Barolo.  
This Christmas, we retrieved our Locanda's recipe and recommend a pairing da sgnùr («for real gentlemen») as we say here in Piedmont. The intense and persistent flavor of Plin ai tre arrosti, stuffed with beef, pork and rabbit meat, goes perfectly with a glass of the «King of Kings», Cannubi Barolo DOCG by Tenuta Carretta, even better in its Riserva version.  
Noble tannins, complex aromas, persistent palate and notes of spice: everything about Cannubi Barolo DOCG contributes to the wine's greatness and its impeccable match with Plin ai tre arrosti. 
RECIPE FOR

AGNOLOTTI

DEL PLIN

AI TRE ARROSTI
For the pasta
250 gr flour
1 egg and 2 yolks
A pinch of salt
1 cup of warm water
For the stuffing and sauce 
200 gr roasted veal
200 gr roasted pork
150 gr rabbit meat
100 gr of Grana Padano cheese
1 glass of red wine
1 egg
Vegetable broth
1 onion
spinach
Extra virgin olive oil
Rosemary, nutmeg, salt, pepper
A bunch of sage
PROCEDURE
Separately sauté the meats in oil with some onion and rosemary. Frequently sprinkle with some red wine while the meats are cooking over high heat. Lower heat and cover the pans with a lid, add some broth to keep the meat tender. Meanwhile, blanch the spinach. Once the meats are ready, set the roast juice aside and finely chop the meat with the spinach. 
Add grated Grana Padano, 1 egg, a pinch of salt, pepper and nutmeg to the mixture and combine well. 
To prepare the pasta, put flour, a cup of warm water, a little salt, 2 yolks and 1 egg on a pasta board. Knead well and roll out a thin sheet of dough. Cut out long strips of pasta and place small spoonful of filling, keeping them at a distance of 3 centimeters from each other. Cover with another strip of pasta, pressing on the spaces in between to seal the filling. Cut the agnolotti using the specific cutter and, before separating the pasta, seal the dough with a "plin", a pinch. 
Cook the agnolotti in salted boiling water for a few minutes, drain and place on a serving plate. Pour the roast juice over the pasta. Add a dab of alpine butter, sage and sprinkle with Grana cheese. 
Bon Appetit and happy holidays from Tenuta Carretta!