• Winery, Hospitality, Wines
Here Are Tenuta Carretta's Award-Winning Wines 
Reading time in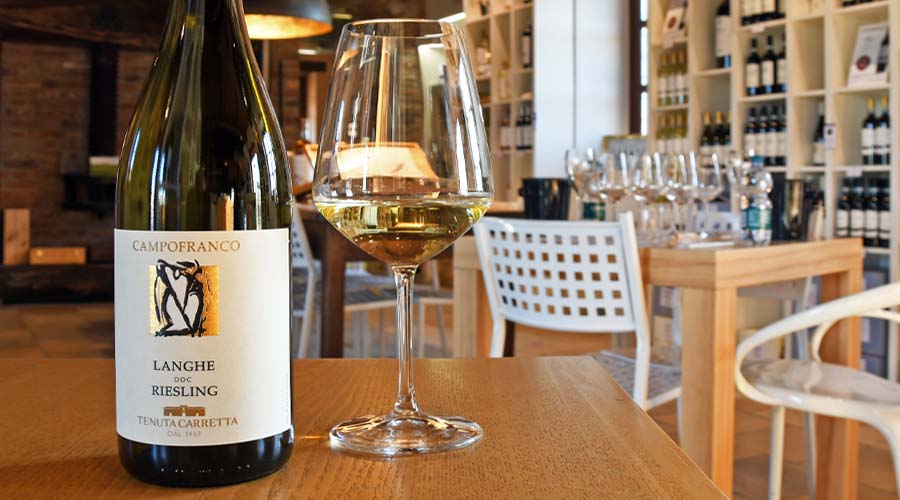 Dear friends, when summer comes every year, we are glad to share the remarkable international awards we received in this first half of 2023. Among these outstanding achievements, we would like to mention that Campofranco Langhe Riesling placed 1st in Piedmont and 3rd in Italy at the latest edition of the Concorso Nazionale del Riesling which was held last June 18th at Naturno, in Alto Adige. The competition awarded the best labels from the 2021 vintage. This is an important accomplishment as it is the first "medal" won by a recently released wine: Campofranco was launched at the end of last year and is part of Tenuta Carretta's new line of signature labels.
Among the impressive results of this first half of 2023, we must also mention a gem from the Langhe, Cannubi Barolo Riserva 2017, which obtained 96 points from Decanter. Cannubi Barolo 2017 received 93 points from Wine-Searcher, while Cascina Bordino Barbaresco Riserva 2017 scored 93 points from Wein.plus.
Among the estate crus, Canorei Roero Arneis Riserva 2020 (92 points – New Wine Review) and Bric Paradiso Roero Riserva 2018 (90 points – Wein.plus) remarkably stood out. Excellent results were also achieved by Cascina Ferrero Barolo 2017 (90 points – Jeb Dunnuck) and Garassino Barbaresco 2019 (90 points – New Wine Review).
DISCOVER OUR WINES AWARDED IN THE FIRST HALF OF 2023
Cannubi Barolo Riserva 2017
Decanter – 96
Cannubi Barolo 2017
Wine-Searcher – 93
Decanter – 92
Wein.plus – 91
Jeb Dunnuck – 91
New Wine Review – 90
Cascina Bordino Barbaresco Riserva 2017
Wein.plus – 93
Jeb Dunnuck – 90
Bric Paradiso Roero Riserva 2018
Wein.plus – 90
Canorei Roero Arneis Riserva 2020
New Wine Review – 92
James Suckling – 92
Cascina Ferrero Barolo 2017
Jeb Dunnuck – 90
Garassino Barbaresco 2019
Wein.plus – 90
New Wine Review – 90
Cayega Roero Arneis 2022
James Suckling – 90
Podium Serrae Langhe Nebbiolo 2021
James Suckling – 90
Cereja Langhe Rosato 2022
James Suckling – 90
Alteno della Fontana Roero Arneis Riserva 2018
James Suckling – 93
Campofranco Langhe Riesling 2021
James Suckling – 91
Cuvée San Rocco Nebbiolo d'Alba Extra Brut Rosé 2021
James Suckling – 90
Airali Alta Langa Metodo Classico Pas Dosé 2019
James Suckling – 90