Visits
A culture of welcoming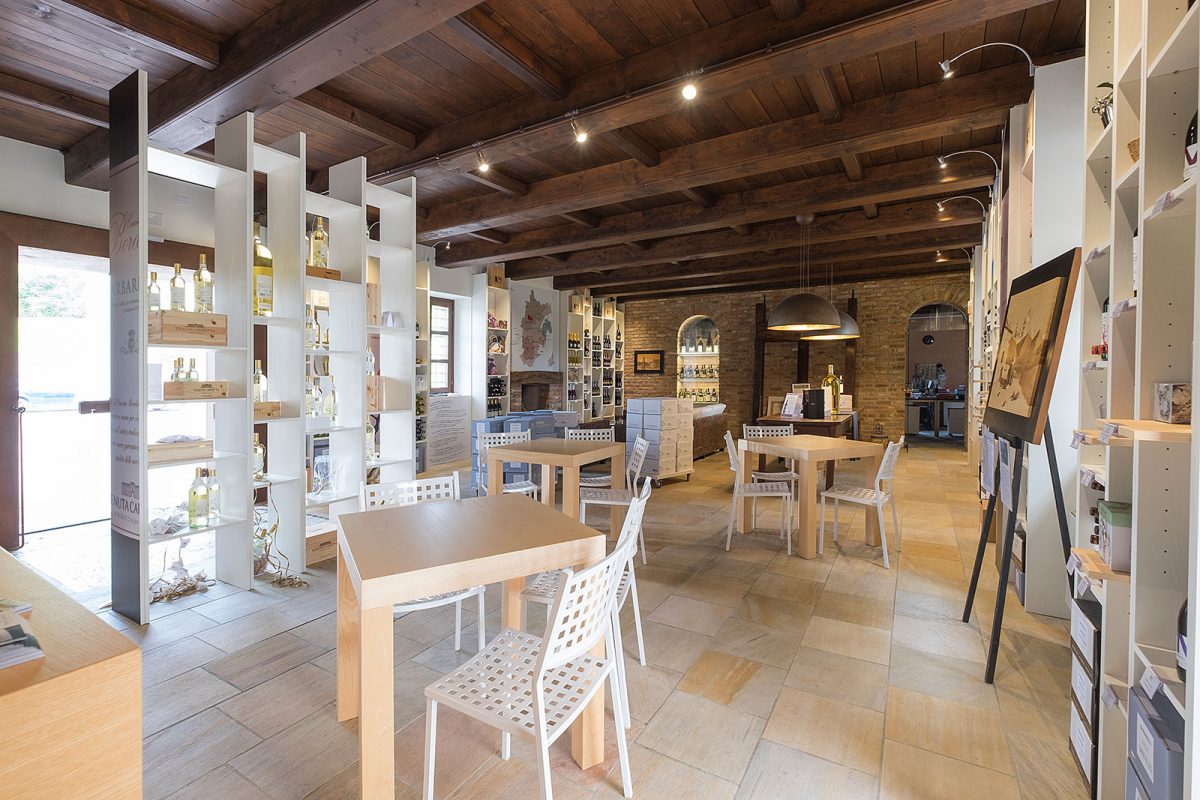 Tenuta Carretta is proud to be part of The Grand Wine Tour, the first platform in Italy to focus on top wineries in the country. It is a mark of excellence in hospitality and wine tourism, with 20 top Italian wineries in association. The wine becomes the inspiration for an experience, for a story of the land. The Grand Wine Tour is a project that speaks of the most important wine areas in Italy, through the eyes of those looking for the beautiful in all its forms. The Grand Wine Tour is also a digital magazine, exclusively written in English, with a social media presence that highlights all the wineries that are a part of the project. The magazine and social media accounts present a multitude of themes, not just those linked to food and wine in Italy, but also travel, fashion, culture, lifestyle and art.
The enoteca – Wine shop
Situated in a particularly welcoming environment, it is the true entrance to discovering Tenuta Carretta. The wine shop offers the opportunity to taste and directly purchase all the wines in the winery's range, as well as the products from the other two companies owned by the Miroglio family: the Malgrà winery with its 35 hectares of vineyards between Mombaruzzo and Nizza Monferrato in Asti, specialized in the production of Nizza DOCG and Barbera d'Asti, as well as Moscato d'Asti, Asti and Brachetto d'Acqui and the Edoardo Miroglio Winery of Elénova in Tracia, Bulgaria. The terrains of Elénova (160 hectares of vineyards, 250 km southeast of Sofia) are optimal for some of the most famous international varieties (Pinot Noir, Cabernet Sauvignon, Merlot & Sauvignon Blanc) as well as for lesser known native Bulgarian varieties (Mavrud, Rubin & Bucket).
All the wines, but not only…
However, it's not only wine; there is also a small but curated selection of speciality foods from the Langhe and Roero. The wine shop also offers the opportunity to take a break, to totally relax.
Consult the maps of the vineyards or the vine-trekking routes, look through the showcase of the winery's old labels, Pliny's ancient press or the shelves full of tempting goods and large format bottles of wine.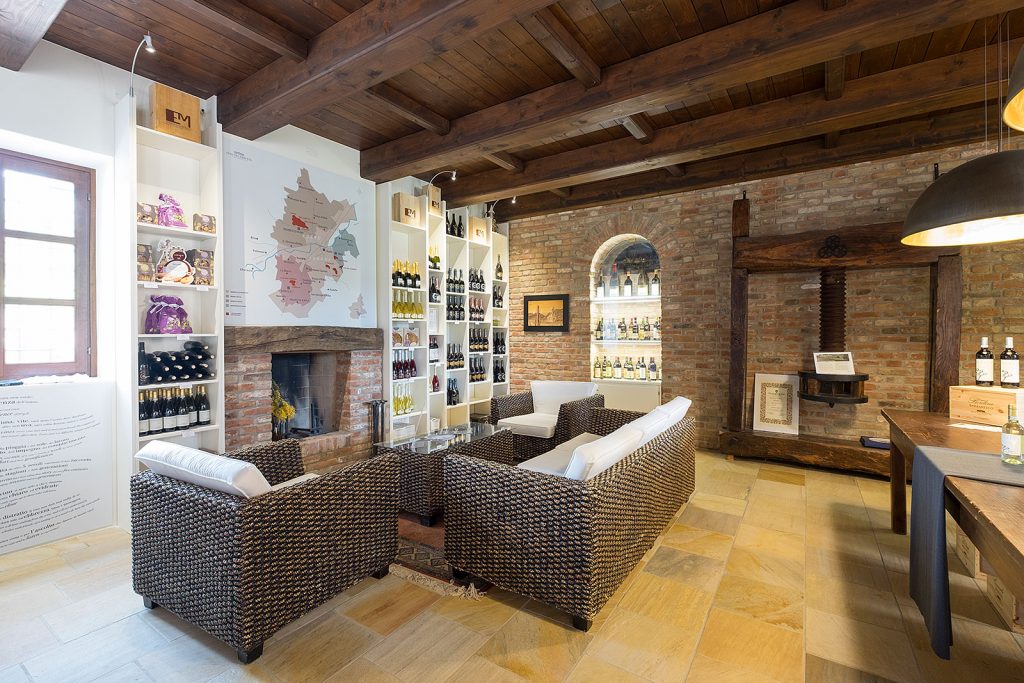 Tasting courses
Finally, in Tenuta Carretta's Wine Shop it is possible to choose between the different "tasting flights", exciting relays of glasses designed take guests on a route to discover our wines.
Reservations are required for visits and tastings.
"Classic" Sensory Experiences

Discover the wine constellation of Tenuta Carretta by trying three, four or five glasses of our great classics: if you don't know where to begin, then start from here.
FIND OUT MORE AND BOOK YOUR VISIT
"Themed" Sensory Experiences

Roero or Langhe? Choose which one you want to try and discover its richness through this themed experience. Take a closer look at the territory starting from the classic wines and reach the heights of excellence: Roero Arneis, Barbaresco and Barolo.
FIND OUT MORE AND BOOK YOUR VISIT
"Unique" Tasting Experiences

"Unique" is what best describes a tasting of Tenuta Carretta's great Riservas: a true sensorial immersion to reveal the secrets of long aging in barrel. Get up close and personal with the art of wine aging and the iconic wines of the area such as Roero, Roero Arneis, Barbaresco and Barolo Cannubi. This experience can be customized to your liking: you can taste our Riservas, try a Cannubi vertical tasting or a Single-variety Grappa tasting for real enthusiasts.
FIND OUT MORE AND BOOK YOUR VISIT
Nebbiolando

Nebbiolando is the perfect experience for Nebbiolovers, true enthusiasts of Langhe and Roero's main grape. A selection of exceptional vintages and equally representative wines made from 100% Nebbiolo grapes of the area. One grape, infinite expressions.
FIND OUT MORE AND BOOK YOUR VISIT
"Wine and bites" Experiences

A tasting adventure combining cheeses and local delicacies with a selection of Tenuta Carretta wines. A true gourmet experience to best enjoy local wines together with local excellences.
FIND OUT MORE AND BOOK YOUR VISIT
Luxury picnics


Since spring, our range of wine and food services has extended. Now you can enjoy a day of vine trekking: walking among the vineyards, with a picnic hamper containing luxury filled rolls prepared by our chef Flavio Costa. Different types are available every day from Thursday to Monday.
FIND OUT MORE AND BOOK YOUR VISIT
Truffle Hunter e Grandi Riserve


Go on an adventure with «Truffle Hunter». Enjoy the "unique" experience of truffle hunting with a professional trifolao. Explore the woods of Roero together with a trusty tabui, a truffle hunting dog. Embark on a thrilling adventure and unveil the secrets of the «diamond of the Earth»! «Truffle Hunter» ends at the winery with an exceptional tasting experience featuring the outstanding Tenuta Carretta Riserva labels and Barolo Cannubi, served with local specialties.
FIND OUT MORE AND BOOK YOUR VISIT
---
Winery visits and tastings by appointment:
weekdays (closed on tuesday):
from 10.30am to 12.30pm and from 2.30pm to 4.30pm
saturday, sunday and holidays:
10am, 12pm, 2pm, 4pm